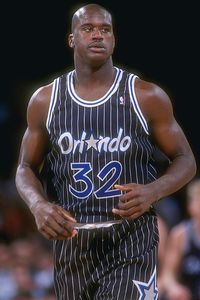 Tim DeFrisco /Allsport
Shaquille O'Neal during his rookie season with the Orlando Magic.Exactly 18 years ago on Saturday, Shaquille O'Neal made his NBA debut for the Orlando Magic. The 20-year-old center logged 12 points, 18 rebounds, and three blocks over 32 minutes (but turned the ball over a whopping eight times) in a 110-100 loss to the Miami Heat.
Fast-forward to the present and Shaq sits near the top of some lofty NBA all-time marks, including career points (28,281; 5th overall), field-goal percentage (58.2 percent; 2nd), rebounds (12,937; 14th), and blocks (2,691; 7th).
Shaq sat out Boston's last three games, but traveled with the team to Oklahoma City Saturday in advance of the start of a four-game road trip. Celtics coach Doc Rivers didn't sound optimistic about Shaq's chance of playing due to a right knee bruised suffered in last Friday's win over the New York Knicks, but the fact that O'Neal traveled is an encouraging sign that he's closer to a return.