at TD Garden, 8 p.m. | ESPN, WEEI (850 AM)
GAME PREVIEW (via Stats Inc.)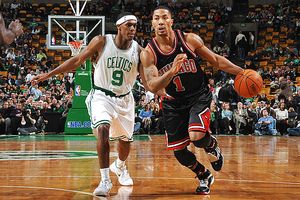 Brian Babineau/NBAE via Getty Images
Derrick Rose and Rajon Rondo are two of the NBA's best young point guards.
Tom Thibodeau made quite an impact in his time as associate head coach of the Boston Celtics, forging a close relationship with Kevin Garnett along the way. It's why he landed his first head coaching job with the Chicago Bulls.

Thibodeau returns to Boston to face his former team for the first time when the Bulls and Celtics renew a rivalry that blossomed in the 2009 playoffs.

In Thibodeau's three seasons working under coach Doc Rivers, Boston (4-1) twice led the league in field-goal percentage defense and went to the NBA finals twice. Thibodeau earned a reputation as one of the top defensive coaches, and was hired by the Bulls (2-2) in the offseason as their 18th coach.

Garnett earned his lone defensive player of the year award in 2007-08 as Boston won its record 17th championship.

"Thibs brings a passion for defense, I think," Garnett said. "When you think of Tom Thibodeau and what's his strengths, he's obviously a defense guy. He watches an uncountable amount of film. He's a worker. He's a guy that loves his job. He does it with passion."
Read the full preview HERE.
FORSBERG'S THREE THINGS TO WATCH
With help from our friends at ESPN Chicago, we touched on a few of the obvious story lines entering Friday's game. Here's three other things I'll be watching:
How do the Bulls attack the Celtics?: Thibodeau is credited as the mastermind behind building Boston's defense, so no one should know better how to attack it. That said, Celtics coach Doc Rivers noted earlier this year that there are few secrets in the NBA and joked that if he, or any of his assistants, didn't know what was coming from another team, they probably deserved to be fired.

Bench warming?: Is this the night Boston's bench finally finds its groove? Yes, we've mentioned the bench before just about each game, but with a third game in five nights, and an already taxed group of starters, the Celtics still need a boost from the reserves. What's more, Chicago's bench is among the lowest scoring units in the league right now, so yet another chance to potentially do some damage for Boston's second unit.

C's & the 3-ball: The Knicks connected on 16-of-24 attempts from beyond the arc, generating a whopping 40 percent of their total output (in a game they scored 120 points, no less) via the 3-pointers. Can Boston take advantage of the same weakness New York exposed in Chicago's perimeter defense?