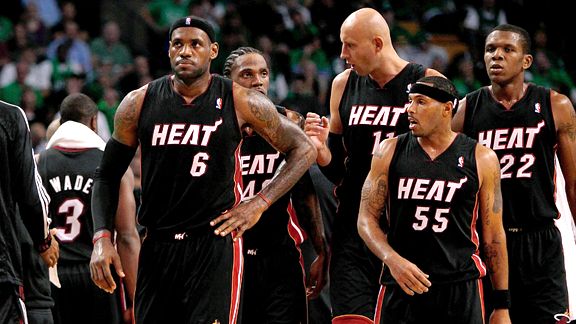 Jim Rogash/Getty Images
The Heat hope to reverse their fortunes from opening night in Boston.Two weeks ago, the Celtics took advantage of the Heat's flaws, which still linger. Can the C's do it again? ESPN Boston's Jackie MacMullan examines:
Game No. 1 was a lifetime ago.

Remember that Miami Heat debacle in Boston, when Dwyane Wade zipped around like a nervous rookie hyped up on grape Kool-Aid, Chris Bosh roamed the court like a transplanted Canadian who'd lost his passport (and his jump shot), and LeBron James, a self-proclaimed "facilitator,'' forgot to pass the ball?

You knew it was foolish to issue proclamations following Miami's underwhelming 88-80 loss on opening night. You also knew that two weeks later, when the Celtics took their talents to South Beach, the Heat would be, if nothing else, a bit more cohesive -- yet no less scrutinized.

On Tuesday, Heat coach Erik Spoelstra perused his notes on the Celtics and noted that first game "felt like last summer.''

"The strides we have made in the last two weeks have been notable,'' he declared.

But that was two hours before Miami blew a 22-point lead on its own court and lost to the Utah Jazz in overtime. The damage was implemented by predictable foils: an elite point guard (Deron Williams) and a physical power forward (Paul Millsap) who shredded Bosh, Udonis Haslem and the boys with 46 points and 9 rebounds.

So the Heat host Boston on Thursday with a fresh batch of questions regarding their poise, their toughness and their compatibility.
Click HERE for the full story.
Bonus links from our friend at the Heat Index:
* Bunker mentality: This is reality for the Heat, every time they take the floor is like a mini playoff game because of the exposure and the star power -- and sometimes the jealousy.
* The Little 12: We spend a lot of time talking about the Big 3. We constantly gauge how well they're meshing together -- game by game, minute by minute, possession by possession. But how about we pay some lip service to the other guys? Forget the Big 3, the real question is have the Little 12 gelled yet?