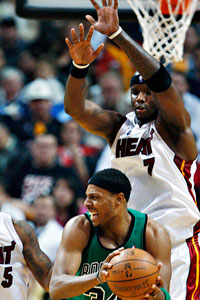 AP Photo/Wilfredo Lee
Jermaine O'Neal defends Paul Pierce during his time in Miami.MEMPHIS -- After seeking a second opinion Friday from the Miami doctors that treated him during his time with the Heat, Celtics center Jermaine O'Neal did not travel with the team to Memphis and instead planned to return to Boston, according to the team.
O'Neal, who is battling lingering left knee soreness, will not be available for Saturday's game against the Grizzlies. His departure leaves the Celtics with only 11 bodies as Boston prepares to wrap up a four-game road trip in Memphis.
Before Thursday's game against the Heat, O'Neal stressed that he wanted to seek the opinion of doctors more familiar with his knee ailments and see if their diagnosis could help map out a definitive recovery plan.
"I'm going to get a second opinion, just a thing that a player should do," said O'Neal. "Obviously, I believe in our staff a lot, I support our doctors and we have some of the best doctors in the world. But i just want to get a different opinion. See if everybody's on the same page. This is the third time it's blown up on me, so I have to do something.
"Obviously, I'm new to the team. I know our doctors have checked over my records, but being [in Miami] for two years, they dealt with it and I didn't have any issues when I was here. [The knee] was strong, so I'm just kinda getting their opinion, then putting it with our doctors and getting them together for a conclusion on why the knee is blowing up the way it's blowing up."
Click HERE to read more on O'Neal's knee woes.