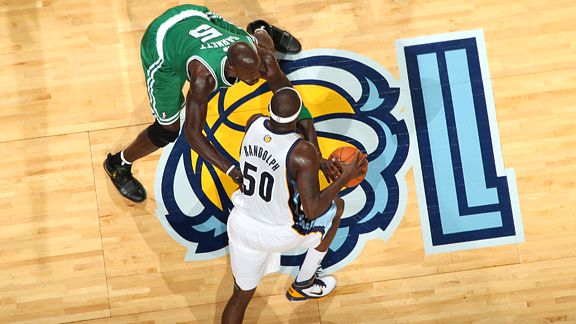 Joe Murphy/Getty Images
Boston's Kevin Garnett defends Memphis' Zack Randolph Saturday.MEMPHIS -- First impressions after the Boston Celtics defeated the Memphis Grizzlies 116-110 in overtime Saturday night at the FedExForum:
HOW THE GAME WAS WON
Ray Allen shook off some early shooting woes, hitting four of his final five shots, including a trio of 3-pointers, while scoring 13 of his 15 points after the third quarter. Shaquille O'Neal, playing only his second game after missing nearly two weeks and five games due to a right knee bruise that he's still not completely healed from, scored a season-high 18 points on 7-of-10 shooting, giving Boston an inside presence it's sorely lacked amidst early season injury woes for its bigs. Paul Pierce added a game-high 28 points, while Rajon Rondo handed out 17 assists for Boston.
TURNING POINT
Glen Davis, Rondo, and Allen scored the first three baskets of overtime, helping Boston race away with the win in the extra session. Despite their inability to generate a potential winning shot at the end of regulation (another Pierce ISO play failed to deliver a shot), the Celtics gave themselves a chance to win in overtime because of some clutch perimeter shooting. Rudy Gay's layup with five minutes remaining helped the Grizzlies match their largest lead of the night with a 92-89 edge, but Allen and Pierce, who hadn't made a 3-pointer to that point, provided back-to-back trifectas as Boston regained the lead.
STAT OF THE GAME
The Celtics shot a blistering 57.7 percent from the field (45-of-78 overall) and probably shouldn't have needed the extra session to put the Grizzlies away, but 17 turnovers leading to 22 points didn't help their cause (nor did allowing nine offensive rebounds and 21 second-chance points).
UNSUNG HERO
Nate Robinson continues to thrive off the bench, connecting on 6-of-8 shots, including 3-of-5 trifectas, for 15 points (the rest of the bench combined for just 11 points with nine from Davis). Robinson mixed up his production, getting out front on the fastbreak for some easy layups and mixing in solid perimeter shooting.
WHAT IT MEANS
Despite playing their third overtime game in six outings, the Celtics wrapped a daunting four-game road trip at 3-1 overall, besting three quality teams in Oklahoma City, Miami, and Memphis (while letting a winnable game in Dallas slip away). Boston returns home with three days of rest as its reward and will take Sunday off before getting back on the practice court Monday. Playing shorthanded due to injuries for much of the trip, the second unit gets a boost as guard Delonte West is eligible to return from a 10-game suspension when the Celtics host the Wizards Wednesday night at the TD Garden.