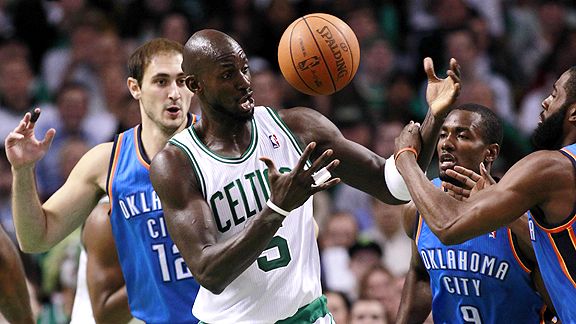 Greg M. Cooper/US Presswire
Kevin Garnett fights a trio of Thunder players for a loose ball Friday. BOSTON -- First impressions after the Oklahoma City Thunder defeated the Boston Celtics 89-84 Friday night at the TD Garden:
HOW THE GAME WAS WON
The Thunder entered the game dead last in the league in 3-point shooting at 26.5 percent, then proceeded to hit six of their first seven trifectas helping to build a double-digit, third-quarter advantage -- even without the services of Kevin Durant and Jeff Green. Boston made a feverish rally in the fourth quarter, but Delonte West -- playing in place of injured Rajon Rondo -- missed a 3-pointer in the final seconds that could have tied the game.
TURNING POINT
Rondo's arena-rattling putback slam with little more than a minute to play trimmed Boston's deficit to six, but a short time later, after Rondo appeared to strip Westbrook with the shot clock winding down, but Royal Ivey collected the ball and threw a desperation 3-point heave at the hoop that banked in for a 77-67 advantage. Ivey summed up Oklahoma City's night with a wry smile as he trotted back up court.
STAT OF THE GAME
The Celtics and Thunder combined for a mere four fourth-quarter field goals (two apiece) and neither team put the ball in the basket over the final 9:27 of play as the game deteriorated to a free throw shooting contest.
UNSUNG HERO
West did all he could to keep Boston in the game, playing outstanding defense on Westbrook in the fourth quarter when Rondo appeared to tweak his hamstring while committing a charge. West finished with seven points over 17 minutes, but missed three shots -- all 3-pointers -- including the potential tying attempt from the corner.
WHAT IT MEANS
It sorta felt like 2009-10 here, when the Celtics struggled mightily to win games on Friday nights, especially games they should have won. Call it "one of those nights," but everything that could have gone wrong seemed to for Boston and the shorthanded Thunder escaped with the win.