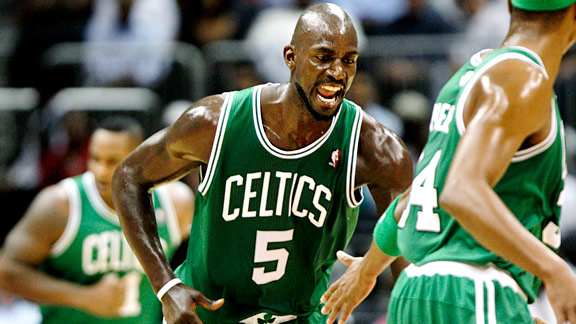 AP Photo/David Goldman
The Celtics need Kevin Garnett's intensity to prevent last year's inconsistencies.Coach Doc Rivers will be relying on Kevin Garnett's emotional leadership to keep the Celtics focused and sharp during the regular-season grind, writes ESPN Boston's Peter May:
Doc Rivers has seen it from both sides. Early in his Boston incarnation, he had a team of callow kids and could never be sure which group would show up from game to game. He now has the opposite of that, sort of. It's a veteran team. It's a better team, for sure, but because veteran teams have a tendency to, er, coast, the coach also can't know for sure what group he will see on any given night.

To wit: What Boston Celtic fan out there didn't expect this team to go into Toronto last Sunday afternoon and absolutely vaporize the undermanned, underwhelming Raptors, regardless of Rajon Rondo's status? There had been a disheartening loss on Friday at home, an easy-pickins' opponent on the road (and in a building where they'd won six in a row) and, well, of course they'd bounce back. Hold that happy thought.

It didn't happen. They lost. They stunk.

Then, of course, it did happen the next night in Atlanta, where the Celtics humiliated the Hawks in front of the usual assemblage of casual fans and empty seats at Philips Arena. In the past, having a team with a free night in Atlanta was a recipe for potential disaster. The Georgia capitol has many distractions for NBA players.

No one knew that more than Rivers, who lived and played in Atlanta for years. But he sensed that this team was finally going to grow up -- and show up. It had been burned in Canada. It had no intention of freezing in the south (apologies to The Band).

"We're a veteran team and sometimes it seems like we're counting how many games we have to play before the playoffs,'' Rivers said. "We'll have to deal with it."
Click HERE to read the full story.