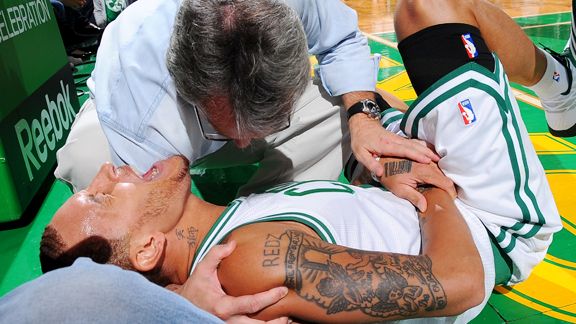 Steve Babineau/NBAE/Getty
Celtics trainer Ed Lacerte attends to an injured Delonte West Wednesday.BOSTON -- The news of Delonte West's broken wrist that will sideline him indefinitely left his teammates and coaches heartbroken for a player who had already endured so much just to get back on the court.
But, as a team, the loss of a key player to injury hardly sent shockwaves through the Boston locker room. As captain Paul Pierce shrugged and mused after Wednesday's gritty 89-83 triumph over the New Jersey Nets, "What's new?"
"We've been dealing with [injuries] for the last couple years," Pierce said. "We're going to respond. We're not a team that hangs our heads or makes excuses because we're without two or three guys. We feel the guys we put out on the floor are more than capable of getting the job done."
Indeed, the injury bug has never wandered far from the Celtics in recent years. It stung Kevin Garnett's knee in the second half of the 2008-09 season, derailing Boston's chance at defending the world title it hoisted in the first (and healthiest) season of the new Big Three.
Last season, injury woes lingered for Garnett, while Pierce endured a cocktail of maladies himself (all while role players such as Marquis Daniels and Glen Davis endured extended absences due to injuries of their own). One win away from an NBA title, starting center Kendrick Perkins tore his ACL and could only watch as the Lakers rallied to win Games 6 and 7 to emerge as champions.
Barely out of the starting gates of the 2010-11 campaign, the Celtics have watched frontcourt additions Jermaine O'Neal and Shaquille O'Neal tag-team on playing time, each sitting extended stretches due to injuries. Starting point guard Rajon Rondo is nursing a strained left hamstring that has sidelined him for three consecutive games.
Now West is expected to miss anywhere from three months (the optimistic timetable set by Shaq) to the rest of the regular season (the pessimistic diagnosis suggested by coach Doc Rivers), and the Celtics must now find a way to make do without possibly their top backup at the point guard spot.
Oh, and one of the top options to fill the gap? Rookie Avery Bradley, who's still nursing a tender left ankle that was surgically repaired this offseason.
"It's tough, honestly," Rivers said. "I was talking about it today, about Avery. He's played -- I think [assistant coach] Lawrence [Frank] or [assistant coach] Kevin Eastman said it today -- he's been through three full practices this season, including training camp. And he's a rookie, and we're going to throw him on the floor. So, at times, we've just got to protect him. We don't want to ruin him. And he's not healthy, yet; not great health. So, it's what we have.
Click HERE to read the full story.