The Red Claws split a doubleheader with host Springfield last week, dropping a heartbreaker on Night 1, but rebounding with a lopsided triumph on Night 2 (see highlights above).
Newly acquired DeShawn Sims, the Michigan product who played for Boston at the Orlando summer league, scored a team-high 15 points in his debut on Friday night to lead five Claws in double figures, but the Armor rallied behind a game-high 30 points from Scottie Reynolds for an 88-85 triumph at the MassMutual Center.
Maine rebounded on Saturday with Sims again providing a monster effort off the bench. The 6-foot-8 forward posted team highs with 24 points and 15 rebounds in a 114-98 triumph over Springfield.
"[Sims is] a monster and they had a hard time guarding him," Claws coach Austin Ainge told the Portland Press Herald.
Paul Harris posted 22 points on 9-of-14 shooting with eight rebounds and three steals in Saturday's win. He's averaging 15.8 points and 10.3 rebounds per game in four appearances this season after sitting out all of last year with an ankle injury.
--EYES ON THE AFFILIATES--
With Stephane Lasme shelved following surgery to repair a foot fracture earlier this month, the Celtics have two affiliated players competing for Maine in Jamar Smith and Tiny Gallon. Others like Sims and Mario West (a final camp cut) have ties to the organization as well. Here's a look at how the affiliates are faring:
* Smith climbed into the starting lineup this week, earning back-to-back starts. He had an off shooting night, connecting on just 2-of-9 attempts in Friday's loss, but bounced back with 12 points and eight assists in Saturday's triumph. For the season, Smith is averaging 11.8 points, 5.5 assists and 2.8 rebounds while averaging 32 minutes per game.

* Like Smith, Gallon joined the starting lineup for this week's doubleheader and produced two quality efforts (14 points, 11 rebounds in Friday's loss; 17 points, 8 rebounds in Saturday's win). For the season, Gallon is averaging 14.8 points, 8 rebounds and 1.2 blocks over 30.8 minutes per game.
West has only appeared in one game this season because a hamstring injury, scoring four points and grabbing four rebounds in eight minutes.
--WIGGLING UP TO MAINE?--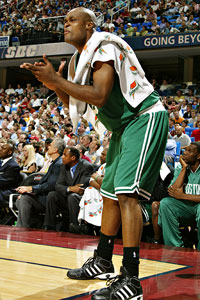 David Liam Kyle/NBAE/Getty
Old friend Antoine Walker could be returning to the region soon.Sources tell ESPN.com's Marc Stein that former Celtics forward Antoine Walker should soon ink a deal with the Idaho Stampede of the NBA's Development League (providing he passes a standard background check).
For those interested in breaking out their old No. 8 (or 88) jerseys and shimmying up to Maine for Walker's return to the region, the Red Claws are set to host the Stampede on Dec. 16 (7 p.m.) and 19 (5 p.m.). It is Idaho's only visit to Maine this season and the Claws do not travel there later in the year.
Here's more on Walker's impending return from Stein:
Former NBA All-Star Antoine Walker intends to launch his latest comeback with the D-League's Idaho Stampede, according to sources close to the situation.

After years of legal and financial woes, Walker first must pass a background check that all D-Leaguers are subjected to before he can sign with the league, sources said.

But plans are already in place for Walker's rights to be claimed by the Stampede, who are coached by former NBA guard Randy Livingston, as long as there are no snags with background review.
Click HERE to read the full story.
--WHAT'S ON TAP--
The Red Claws visit Springfield again on Thursday before returning home to host Fort Wayne on Friday. It's a bit of a doubleheader for the parent and minor league squads as the Celtics visit the Nets on Sunday at 1 p.m., while Maine hosts the Armor (the Nets' D-League affiliate) at 5 p.m. that same day.