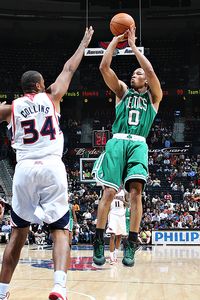 Scott Cunningham/Getty
Celtics rookie Avery Bradley put in some extra work this weekend.WALTHAM, Mass. -- On the night of his 20th birthday, Avery Bradley and his Celtics teammates got a gift from coach Doc Rivers: The weekend off amidst a three-day break in the schedule following Friday's triumph over the Toronto Raptors, a post-Thanksgiving treat in part for compiling the best record in the Eastern Conference over the first month of the season.
Then, channeling his inner Bill Lumbergh, Rivers approached the birthday boy and dropped a small dose of bad news: "Mmm, yeah, I'm going to have to go ahead and ask you to come in on Sunday."
The Celtics are eager to get Bradley more court time, but with Monday being only his fourth full-team practice of the season, the rookie guard is still playing catchup, while learning the basic offense. So the coaching staff is squeezing in extra time with Bradley hoping to accelerate his learning process.
"The tough one is Avery," Rivers admitted after Monday's practice. "We're putting Avery on the floor and asking him to run an offense that he doesn't know. We're trying to figure it out. We had him come in early [Monday] and we actually had him practice [Sunday]. We're just trying to figure out what we can run with Avery, where the whole [second] unit can still function."
Bradley, the 19th overall pick in this year's draft, missed nearly all of training camp while recovering from offseason surgery to repair a bone chip in his left ankle, but is nearing full health now. He made his first regular-season appearance last week against the Atlanta Hawks and could help eat minutes at the guard position with primary ball-handlers Rajon Rondo (sore hamstring, plantar fasciitis) and Delonte West (fractured right wrist) both stung by the injury bug recently.
West heaped praise on Bradley before his injury, comparing himself to the fresh-faced rookie guard and Rondo went out of his way to praise Bradley Monday.
"He's a great listener," said Rondo. "For a young guy to come in, he's humble, and works extremely hard. He's going to be a great player in this league one day, whenever he gets the opportunity. I always tell him to stay ready. Things aren't guaranteed. I went down, Delonte is down. You gotta be ready when your name is called."
Rondo has kept an eye on Bradley this season, providing the mentor-like figure that Rondo lacked when he arrived in Boston as the 21st pick in the 2006 draft. Rondo raves about Bradley's talents, but knows his boundaries as well.
"You try not to put too much in his head," said Rondo. "You let him learn for himself, or he can ask Nate [Robinson] or coach Rivers. He has guys in front of him who are willing to teach him [and] help him learn the game."
And Rondo can vouch for the NBA-ready defense that Rivers had raved about.
"He's way past me," said Rondo. "Defensively, he's way past me now, probably, as far as the pick-and-roll. He's very physical... He's a physical presence. He gets into you on picks, he gets up into you, defensively, and he turns you, makes you dribble with your back towards the basket."
[Note: Earlier, we wrote on Bradley's quest to get on the court. Click HERE to read it.]