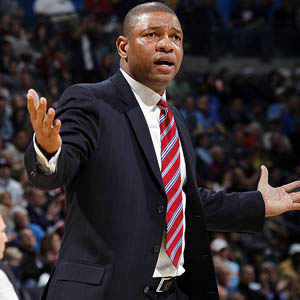 Layne Murdoch/NBAE/Getty Images
Doc Rivers has used his starters more than he'd like, but he doesn't have a lot of options.WALTHAM, Mass. -- The Boston Celtics entered the 2010-11 season gushing with optimism thanks in large part to a revamped bench constructed with eyes toward adding the sort of depth the team lacked a year ago, when it hit a wall at the worst possible time -- during the NBA Finals.
With the addition of veterans Delonte West, Jermaine O'Neal and Shaquille O'Neal, this was coach Doc Rivers' take on Boston's bench in the preseason:
"It's important that we have a deeper rotation [this season], it's better for the playoffs. We'll probably shorten for the playoffs, but to get there, we really need a bench. And we need a great bench. For us to have an honest chance of winning this whole thing, our bench has to be huge during the regular season. They're going to have to win games for us some nights."
On Monday, Rivers watched his team limp through a practice session with only 11 available bodies. In the back room, West was prepping for surgery on his broken right wrist, which will sideline him indefinitely; Jermaine O'Neal was getting treatment on a sore left knee that has yet to show signs of allowing him to get back on the court; and Kendrick Perkins was swimming laps in the pool as he rehabs from offseason ACL surgery.
On the court, point guard Rajon Rondo could rarely rest in 5-on-5 drills despite just getting over a sore left hamstring and battling plantar fasciitis in his feet, while rookie center Semih Erden gutted out another practice with an ailing left shoulder that Rivers openly admits will eventually require surgery.
And this is Rivers' outlook on bench play now:
"You come into the year with a plan, and you've got to change the plan sometimes. That's something we're doing as a staff too. The 10-man unit is not going to work right now. It just can't. We went into the year, and I told you, I believe it's really important for us to have [a deep rotation] because it allows us to get rest. But with injuries, it's unrealistic."
Click HERE to read the full story.