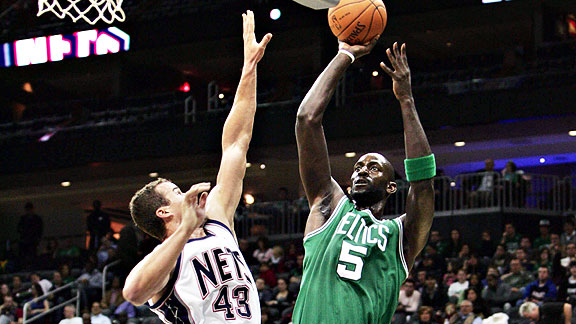 Nicole Sweet/US Presswire
Kevin Garnett and the Celtics breezed Sunday in New Jersey.NEWARK, N.J. -- First impressions after the Boston Celtics defeated the New Jersey Nets 100-75 Sunday afternoon at the Prudential Center.
HOW THE GAME WAS WON
Playing without starter Rajon Rondo (sore left hamstring), Nate Robinson drew a spot start and produced a monster effort (21 points, 6 rebounds, 6 assists) while finishing plus-27 in the plus/minus category over 29 minutes of action. Kevin Garnett produced another double-double (13 points, 14 rebounds), while Glen Davis sparked a consistent bench effort with 14 points and nine rebounds. "You Should Be Dancing" played during the break before the fourth quarter and Kevin Garnett half-expected to find Gino on the JumboTron with the Celtics up 27 entering the final frame.
TURNING POINT
The second quarter had been a trouble spot for Boston with its reserves prone to giving up an early lead in recent games, but the Celtics instead blew the hinges off of this one in that frame. It was a two-possession game with little more than seven minutes remaining in the first half, but Boston embarked on a 15-2 run with more than half of the points coming at the charity stripe, while Marquis Daniels provided a pair of layups during the burst to help put Boston out front by 19. The Celtics never looked back.
STAT OF THE GAME
The Celtics limited the Nets to a mere 37.5 percent shooting (27 of 72 overall), while Boston finished at 50.6 percent (39 of 77).
UNSUNG HERO
In addition to sparking Boston's second-quarter run to make this game a laugher, Daniels finished 4 of 9 shooting with 10 points over 30 minutes. He continues to work well around the rim.
WHAT IT MEANS
Playing an afternoon game against a lackluster opponent and shorthanded due to injuries (even more so when Shaquille O'Neal sat out the second half with a sore right calf), the Celtics had plenty of reasons to stumble. Instead, Boston put together a complete and consistent effort then ceded the dance floor to their youngest players in the fourth quarter for valuable game experience. Boston has now won seven in a row with two days of rest looming.