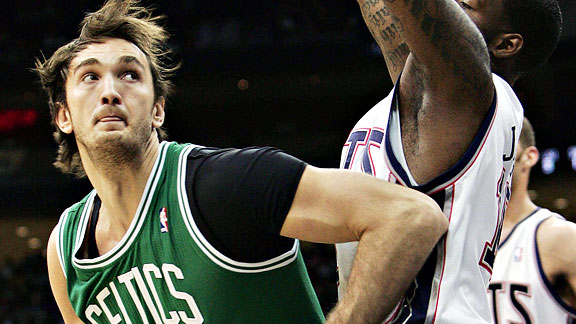 Nicole Sweet/US Presswire
Semih Erden and the bench logged valuable (and quality) minutes vs. the Nets.NEWARK, N.J. -- Buckle up.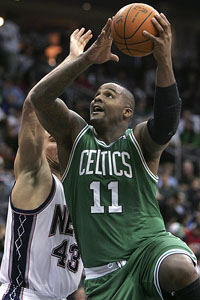 AP Photo/Rich Schultz
Glen Davis (16 points) spearheaded the effort by the Celtics' second unit with his usual hustle and grit.That was the instruction Celtics coach Doc Rivers gave to his assistants as Boston trotted out a second unit of Avery Bradley, Von Wafer, Marquis Daniels, Glen Davis and Shaquille O'Neal to start the second quarter of Sunday's game with the New Jersey Nets.
Boston's reserves have struggled to maintain leads and Rivers frequently has kept a starter on the court with them to prevent lapses. But playing without Rajon Rondo and adamant about limiting minutes for the Big Three, Rivers sent out the untested collection in a two-point game and crossed his fingers.
He was rewarded with inspired defensive play from a group clearly lacking offensive firepower. So even though the shots of Boston's reserves didn't fall, neither did attempts by New Jersey. And by the time Kevin Garnett capped the trickle of starters returning to the floor with 5:43 to play in the half, Boston boasted a 13-point cushion that only grew from there en route to a breezy 100-75 triumph at the Prudential Center.
"We were going to rest our guys and I told our coaches, 'Hey, put your seatbelts on,'" said Rivers, who managed to keep captain Paul Pierce on the bench for the final 12:08 of the first half. "No matter what the score was we had to give our guys a blow. And [the reserves] came in and they changed the tempo, defensively, of the game."
The Nets didn't score a basket for the first 4:27 of the second quarter and settled for six total points over the first 11:06 of the period. Boston ultimately outscored New Jersey 30-12 in the quarter, allowing for an easy win that featured many of those same reserves logging valuable floor time in a perfunctory fourth quarter.
"I thought the second unit in the second quarter changed the whole game," Rivers said. "We went five possessions without a score … but the other team didn't score. It was really good for them to see that. You don't have to score if you keep getting stops. Eventually the dam will break and you'll start scoring. And it happened for them.
Click HERE for the full story.