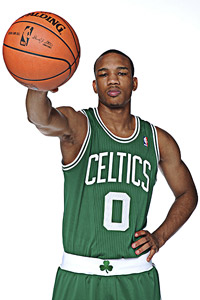 Jennifer Pottheiser/NBAE/Getty
Injuries gave Avery Bradley a chance to log valuable court time Sunday in New Jersey.Celtics rookie Avery Bradley knew he could be in line for his most extended action of the season Sunday in New Jersey considering starting point guard Rajon Rondo was sitting out with a sore hamstring and backup Nate Robinson had been nursing a sore foot. But when the call came down for Bradley to check in late in the first quarter, it still startled him a bit.
Bradley can be forgiven. After sitting out much of training camp and the preseason while recovering from offseason ankle surgery, he's been trying to play in-season catch-up. That's no easy task with the Celtics, a veteran team that's more likely to rest aging legs than squeeze in an offday practice session. All of which means Bradley hasn't seen a lot of 5-on-5 action lately.
After playing just seven minutes in two appearances during the regular season, Bradley logged a season-high 14 minutes, 43 seconds of action Sunday in New Jersey, chipping in four points and two assists, while shining defensively with ball pressure that forced multiple offensive fouls on the Nets.
"It was good to get a chance to go out there, get a feel for the game, the speed," said Bradley. "I still have a lot of things to work on, so that I can used to [this level]. But it felt good. It was a step towards me getting used to it, Coach putting me in the game. [Monday] I'm going to go in the gym, and coaches will tell me what I need to work on."
Therein lies the difficulty with a veteran team. Battling a pesky injury bug, Celtics coach Doc Rivers elected to scrap practice Monday considering the team would hardly have enough bodies to run 5-on-5 drills. Kendrick Perkins (knee), Jermaine O'Neal (knee), and Delonte West (wrist) are out with long-term injuries; Rondo (hamstring, feet), Robinson (foot), Semih Erden (shoulder) and Shaquille O'Neal (calf) are all battling minor tweaks that have limited them at times. That means Boston had eight healthy (or, more healthy than others) bodies and, with a preference to rest veterans like Paul Pierce and Ray Allen, that meant the trainer's room in Waltham was busier than the practice courts.
"It's kinda tough playing 5-on-5, we don't practice as much," said Bradley. "You can definitely learn from watching these guys, but we play a lot of 2-on-2. It's the most we can do sometimes."
Bradley and fellow rookie Luke Harangody often join Von Wafer and Celtics director of basketball development Tyronn Lue for those 2-on-2 games and extra on-court work. When Bradley needs reps in the full-team offense, coaches are often drafted off the sidelines to run the sets with him.
But it's game action like Sunday that might ultimately help Bradley more than anything else.
"[Sunday's minutes were] huge for [Bradley]," said Rivers. "You can see there's a lot of work to do offensively, he just doesn't really know what to look for at times. But, listen, he was not even a point in college. He was more of a 1-2, so it's going to take him time to run a ball club. Defensively, I've been saying this, he can play in our league. He can play in the in-between game with offensive shots. But as far as running the club, that's going to take a little while."
His surgically-repaired ankle still isn't 100 percent, but the combination of tape and a brace are helping him get through. Bradley believes his athleticism will jump up a notch as that ankles near full health and he's only going to look more comfortable as he learns more of the playbook.
Until then, he's going to stay ready and get by on his natural talents.
"Teammates always tell me, whenever [Rivers] calls your name, just be ready," said Bradley. "That was my thing, go out there and play hard."