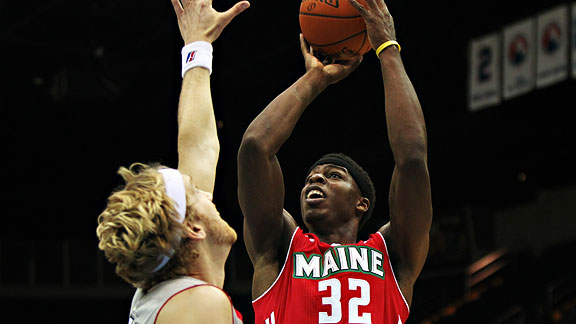 Chris Marion/NBAE/Getty Images
DeShawn Sims puts up a jumper vs. Springfield.The Maine Red Claws dropped a pair of nail-biters last week, but finished strong with a 119-111 triumph over visiting Springfield Sunday. We're a day later than usual (thanks, Adrian Gonzaelz), but let's take a look in the rear-view mirror.
--WEEK IN REVIEW--
Before diving into three games in four days, the Red Claws inked former Celtics summer leaguer Matt Janning out of the available player pool Wednesday. Janning started the year with the Phoenix Suns before being let go last month and found a home with some familiar faces (including Maine coach Austin Ainge and, another in-season acquisition, DeShawn Sims, both a part of Boston's summer squad in Orlando).
Thursday, Dec. 2: Springfield 116, Maine 112: Buoyed by the addition of Nets second-year swingman Terrence Williams (16 points, 15 rebounds, 13 assists) the host Armor took over late and emerged with the win. Mario West returned to the lineup after battling a hamstring injury and scored a team-high 21 points on 9-of-17 shooting with seven rebounds and two steals. Janning scored 12 points in his debut, logging nearly 24 minutes off the bench, as Maine put six players in double figures.
Friday, Dec. 3: Fort Wayne 105, Maine 99: Fort Wayne opened a 27-point cushion and fended off Maine's late rally. West again paced Maine with 19 points, 12 rebounds, five assists, four blocks and two steals over 41:30. Champ Oguchi tossed in a career-high 19 points off the bench for Maine.
Sunday. Dec, 5: Maine 119, Springfield 111: Tiny Gallon put on a dunk exhibit, sprinkling in an array of jams as part of a 25-point, eight-rebound effort to pace the Claws. Jamar Smith added 20 points and 10 assists, while Paul Harris chipped in 18 points and nine rebounds. Check out the highlights below:
--EYES ON FAMILIAR FACES--
TINY GALLON: The 6-foot-9 forward -- an affiliated player after spending a short time with Boston in the preseason -- continues to thrive in the D-League, averaging 16.6 points and nine rebounds per game. He posted two doubles-doubles this week (barely missing another in Maine's lone win). He's doing a good job getting to the line, averaging nine free throw attempts per game during that three-game span.
JAMAR SMITH: The 6-foot-3 guard Smith -- also an affiliated player -- has thrived since joining the starting lineup last month. He's shooting 50.6 percent from the floor while averaging 14.6 points, 6.3 assists, and 3.9 rebounds per game.
MARIO WEST: After sitting out three games with a hamstring injury, West returned this week and put together three impressive efforts. His shooting remains streaky (he was 4 of 12 in Sunday's win) and his turnovers are a concern (17 giveaways during the three-game span), but his scrappiness was missed on the court.
DESHAWN SIMS: The 6-foot-8 forward who spent time with Boston's summer squad has cooled after initially joining the Claws. In the two losses, Sims was 4 of 19 shooting for a combined 12 points. His minutes dipped in Sunday's win, but he connected on 4-of-5 shots for eight points over 15 minutes.
MATT JANNING: The Northeastern product registered 12 points off the pine in his debut, but had a quiet weekend. He connected on a mere 1 of 9 shots for four total points, going scoreless over 12 minutes in Sunday's win. Regardless, Janning finished plus-13 in that win, so he's helping the team even when his shot isn't falling.
--WHAT'S ON TAP?--
The Red Claws hit the road for a doubleheader in Erie on Friday and Saturday. The next home game is Thursday, Dec. 16 when old friend Antoine Walker is expected to return to the region as a member of the Idaho Stampede.