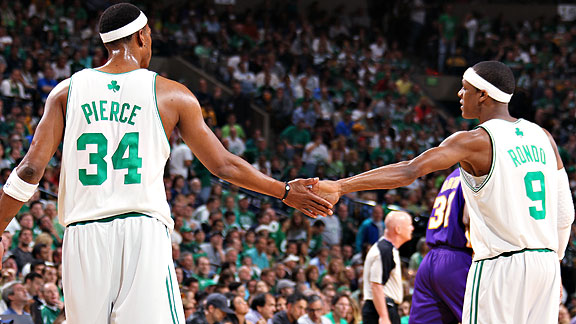 Nathaniel S. Butler/NBAE/Getty Images
Paul Pierce has thrived this season with Rajon Rondo on the court with him.WALTHAM, Mass. -- Celtics captain Paul Pierce admitted Tuesday that the absence of Rajon Rondo directly affects his production, noting the amount of easy buckets Rondo is able to generate for his teammates.
So despite the strong play of Nate Robinson in four spot starts, the thought of playing without Rondo for even a small stretch of time is a daunting thought for Pierce and Co. Rondo is questionable for Wednesday's game against the Denver Nuggets with a lingering hamstring issue and Celtics coach Doc Rivers didn't dismiss the idea of potentially shutting Rondo down for a few games with eyes towards getting him back to full health.
Pierce knows how valuable Rondo is on the floor.
"When Rondo's not out there, the dynamics of the team change because I'm a guy who gets a lot of stuff off fast-breaks, off of cuts, you know, find and be wide open," said Pierce. "Then you insert maybe Nate or Marquis [Daniels] and then maybe it's a different way that I approach the game. I may have the ball in my hands a little bit more. But we've played a few games now without Rondo and we'll make the necessary adjustments. There's certain plays that we're comfortable running with Rondo, just because he's been in the system, and they work great for us and not so well maybe with Nate, but he's only been in the system for a year and some change.
"They definitely have two different packages when each of them is on the court, and we'll see how it all works out, but with either one we feel like they give us something different, being that Nate is more of a shooter and scorer; Rondo, he's more dynamic with his passing. But if we have neither one of them, then maybe I'll take over some point guard duties, or it's time for someone like Avery Bradley to step up, or maybe Marquis."
But just how pronounced is the difference in Pierce's offensive production when Rondo is on the court? Consider this: With Rondo this season, Pierce is averaging 28.3 points per 48 minutes, while shooting 55.1 percent overall from the floor, including 51 percent from beyond the 3-point stripe. When Rondo is off the court, Pierce is averaging 19.6 points per 48 minutes, while shooting 39.7 percent, including a mere 6.7 percent from 3-point land.
Maybe it's not too surprising that most Celtics players are more productive with the assist-happy Rondo on the court, but Pierce's raw 3-point stats alone show the impact of Rondo. Pierce, the NBA's reigning 3-point champion, is 25-of-49 on 3-pointers with Rondo is on the floor and just 1-of-15 when he's not.
According to ESPN.com researchers, these numbers continue a recent trend with Pierce and Rondo. During the 2009-10 season, Pierce shot 47.8 percent from the floor with Rondo, and 41.5 percent without him. The numbers were similar the previous two season as Pierce shot 46.3 percent in 2008-09 and 47.5 percent in 2007-08 when Rondo was on the floor, compared to 43.5 percent without him in 2008-09 and 43.7 percent without him in 2007-08.
Pierce has also shot 3-5 percent better from beyond the arc with Rondo in the game each season since Rondo became the full-time starting point guard during the 2008 championship season.
Rivers admitted his team loses a lot without Rondo on the floor.
"We lose a lot of the offense [without Rondo], about half of it, I would say," said Rivers. "But we would lose a lot of the second- and third-option stuff that Rondo can run, too. Also the stuff that we haven't put in yet from last year that, when we have the right group on the floor, Rondo can even run that."