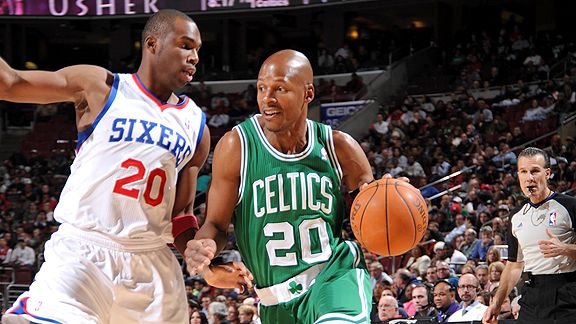 Jesse D. Garrabrant/NBAE via Getty Images
Ray Allen looks to drive on Jodei Meeks Thursday night in Philadelphia.PHILADELPHIA -- First impressions after the Boston Celtics defeated the Philadelphia 76ers 102-101 Thursday night at the Wells Fargo Center:
HOW THE GAME WAS WON
Ray Allen scored a team-high 23 points on 7-of-10 shooting, hitting a clutch 3-pointer with little more than a minute to play to aid Boston's late rally in what turned out to be a seesaw final minute. Kevin Garnett added 14 points, including the winning bucket, while Rajon Rondo added 19 points and 14 assists over a whopping 47 minutes. Jodie Meeks scored a team-high 21 points for the 76ers.
TURNING POINT
Philadelphia fell asleep at the wheel and left Ray Allen wide open for a 3-pointer that put Boston out front by one with little more than a minute to play. Andre Iguodala answered with a clutch jumper in traffic, but Glen Davis responded at the other end of the floor, splashing an 11-foot jumper to put Boston back out front. Iguodala blew past Pierce to put Philly on top, 101-100, with 6.6 seconds to go, but Garnett answered with the beautiful alley-oop layup off a feed from Rondo for the win.
STAT OF THE GAME
Forced to go small, Boston lost the rebounding battle, 39-33, but still found a way to overcome that and 15 turnovers.
UNSUNG HERO
When the Celtics went small, it meant extra court time for Nate Robinson. And on a night that everyone on the Boston bench not nicknamed Big Baby (16 points, 7 rebounds) went quiet again, Robinson hit a trio of second-quarter 3-pointers, scoring all nine of his points in a six-minute span in which Boston rallied out of a six-point hole (Philly's largest lead of the night) and took a one-point lead into the intermission.
WHAT IT MEANS
In a game the Celtics had every reason to falter, Boston runs its winning streak to nine games, winning the second night of a back-to-back on the road. The team gets a one-day break before visiting Charlotte on Saturday night.