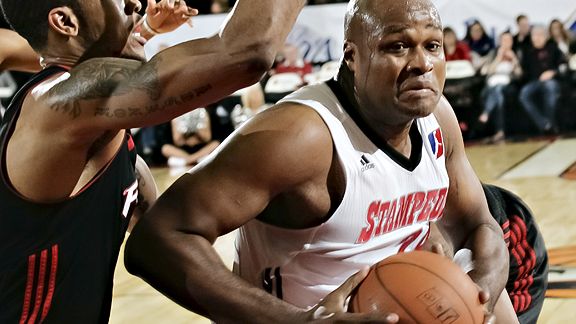 Otto Kitsinger/Getty Images
A familiar face is returning to New England this week.The Maine Red Claws will be thrust into a national spotlight this week when newly inked Antoine Walker and the Idaho Stampede invade for two games in four days. Before that happens, let's take a look back at the week that was for the Claws:
--WEEK IN REVIEW--
Thursday, Dec. 9: The injury plagued Red Claws got a bit of (temporary) reinforcement Thursday when the Charlotte Bobcats optioned rookie point guard Sherron Collins to the team before the start of a weekend doubleheader against Erie. Coach Austin Ainge had some familiarity with Collins after watching him compete for Charlotte at the Orlando summer league (where Collins averaged 12.5 points and 2.8 assists in four games). Collins was the first player optioned to Maine this season and only the second Bobcat to be sent to Maine (Alexis Ajinca spent much of the 2009-10 season with the Claws).
Friday, Dec. 10 - Erie 120, Maine 71: The Red Claws landed on the wrong side of a 49-point thumping, as Erie ran wild in the first game of a doubleheader, opening a 47-point lead through three quarters before calling off the dogs. Erie shot 60.2 percent from the field (50-of-83 overall) and put six players in double figures, led by Nate Linhart with 20 points on 7-of-8 shooting. DeShawn Sims rebounded from some previous-week struggles to score a team-high 22 points and grab 10 boards. Paul Harris added a double-double (12 points, 12 assists) for the Claws, who shot a mere 26.8 percent (22-of-82 overall) from the floor.
Saturday, Dec. 11 - Erie 109, Maine 91: Maine came out more inspired Saturday night, scoring 62 first-half points, but Erie made a third-quarter run to pull away, putting six players in double figures again to sweep the weekend series. Sims again led Maine with 20 points (on 8-of-13 shots), while Harrison added 18 points, six rebounds, three assists, two blocks, and a steal while stuffing the stat sheet. Collins rebounded from an off game the night before, scoring 15 points over 29:13 off the bench.
--EYES ON FAMILIAR FACES--
Tiny Gallon (6-9 forward, affiliated) -- Sidelined with a back issue, Gallon did not play in either of Maine's two games this weekend. He's averaging 16.6 points, 9 rebounds, and 1.3 assists per game in seven appearances (five starts).
Jamar Smith (6-3 guard, affiliated) -- Smith's shot wasn't falling in Erie, where he was 7-of-17 overall, for a total of 19 points to go along with four rebounds, seven assists, two steals, and 13 turnovers over two games. For the season, Smith is averaging 13.4 points, 5.7 assists, and 3.4 rebounds per game.
Maine Red Claws
Mario West gets his own bobblehead night in the new year.Mario West (6-5 guard, camp cut) -- Like Smith, West struggled mightily with his shot, missing all seven attempts in Friday's loss, and connecting on 3-of-14 shots overall for eight points in two games. West added a total of seven rebounds, five assists, two blocks, a steal and eight turnovers in the weekend series. For the season, he's averaging 11 points, six rebounds, and 2.2 assists per game.
DeShawn Sims (6-8 forward, summer league) -- With Gallon sidelined, Sims jumped back into the starting lineup and made the most of the opportunity, twice leading the team in scoring this weekend. For the two games, he totaled 42 points, 15 rebounds, and two blocks over 62 minutes of action. For the season, Sims is averaging 14.4 points and 7.4 rebounds per game.
Matt Janning (6-4 guard, summer league) -- Janning is one of Maine's top guards off the bench, logging 61 minutes this weekend, while scoring 10 points in each game (on 6-of-14 shooting overall). In five appearances, Janning is averaging 7.2 points, 2.2 rebounds, and 1 assist per game since joining the Claws after being released by the Phoenix Suns.
--WHAT'S ON TAP--
The Red Claws host Walker and the Stampede on Thursday (7 p.m.) and Sunday (5 p.m.), while also sandwiching a visit to Springfield Friday night. Keep an eye on this space for more on Walker's return later this week.
Maine also announced that Jan. 6 will be Mario West Bobblehead Night, with the first 1,000 fans receiving the collectible courtesy of Wright Express.
"In addition to being a fan-favorite and one of the hardest working players on the team, Mario West's name will forever be in the Red Claws' history books as the first player in team history to earn a call-up to the NBA," said Red Claws president and general manager Jon Jennings. "We wanted to do something that, not only the fans would enjoy, but that would honor Mario's unique place in Red Claws' history."