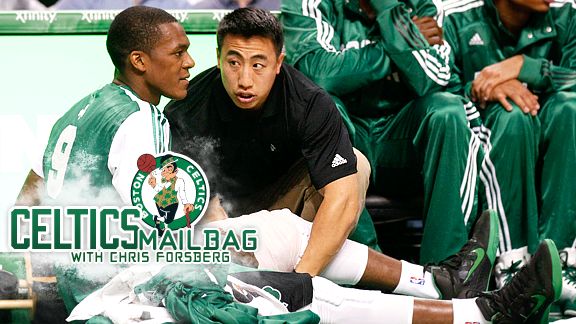 AP Photo/Winslow Townson
Fans are worried about injuries despite a nine-game winning streak.Winning streaks have a way of keeping the workload light for our Celtics Mailbag letter carrier. But, the Celtics have a way of keeping things interesting even when they're riding a nine-game winning streak, so there are few days off for our postman.
Even after a thrilling 102-101 win on the second night of a back-to-back Thursday in Philadelphia, highlighted by spry Kevin Garnett's alley-oop layup off a Rajon Rondo feed with 1.4 seconds remaining, mailbaggers are worried about mounting injuries and inconsistent play (even if Boston has been able to overcome both, so far, while not losing since Nov. 21 in Toronto).
As the Celtics enjoy a much-deserved (and much-needed) day off while trekking to Charlotte for Saturday evening's tilt with the Bobcats, let's tackle all the hodgepodge of lingering questions in Celtic Nation.
Click HERE to read this week's Celtics Mailbag.