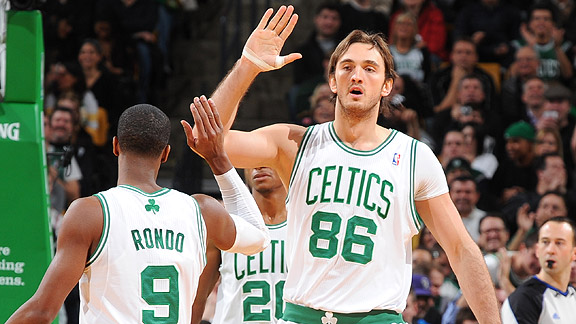 Brian Babineau/NBAE/Getty Images
Semih Erden is trying to be himself with the first unit.Any other rookie might have been fazed, but Semih Erden didn't seem rattled in the least on Thursday night after being thrust into a starting lineup that features three future Hall of Famers and a young point guard that many think will one day ascend to that title.
Asked if he was nervous for his first NBA start, Erden rejected the notion like the Spencer Hawes layup he turned away just 15 seconds into the game.
"I don't like nerves," Erden said, eliciting laughter from reporters. He explained that after playing in Europe and for Turkey's national team, nothing should seem too daunting on a basketball court. Erden finished with eight points (hitting both shots he attempted) with three rebounds and a block over 18 minutes in a 102-101 triumph.
Erden is expected to be back in the starting lineup Saturday night when the Celtics visit the Charlotte Bobcats as Shaquille O'Neal is set to rest a sore calf for the second straight game.
"[Erden] was big for us [Thursday]," said Kevin Garnett. "We're going to need him."
The Celtics have needed him all along. Erden has appeared in 19 games, averaging 3.7 points and 2.3 rebounds in 12.4 minutes per contest. But in a season which Boston has rarely had both of the other bigs it brought in this offseason -- Shaq and Jermaine O'Neal -- Erden's impact on this year's team has been much more than the stats reveal.
What's more, Erden's ability to step into a starting role now allows Boston to keep Glen Davis as the first big off the bench, where he's starred this season, including in Thursday's win in Philadelphia.
So while players and coaches admit that there's room for Erden to grow, he's content with his first career start.
"It's very nice for me," said Erden. "I tried my best, first on defense, then on offense. I helped my team and I'm very happy."
Erden, the NBA equivalent of Mr. Irrelevant as the 60th and final selection in the 2008 NBA Draft (he spent two more years in Turkey before coming stateside this summer), is also playing wit a labrum issue in his left shoulder and, while Celtics coach Doc Rivers acknowledged that he'll need surgery at some point, Erden gave a positive report on the shoulder after Thursday's game.
"It's good," said Erden. "I've been working to make everything stronger in my shoulder. It's fine."
Rivers did admit that there was reason for Erden to be concerned during his first start, particularly with the expectations the incumbent starters have for any player that joins them.
"[Erden has] performed well, the concern is that he has struggled defensively at times and our first unit has been unbelievable defensively, so you can see they were concerned by that," said Rivers. "[Before Thursday's game], when we were going over stuff... they were pretty hard on him about defense. You don't come into our group and screw things up."
Even if he did, Erden won't get nervous because of it, which explains why a veteran like Garnett is so impressed by the frontcourt import, who isn't afraid to bark back, language barrier be damned.
"He has confidence and everything," said Garnett. "He has a lot of it, and doesn't mind telling you about it."