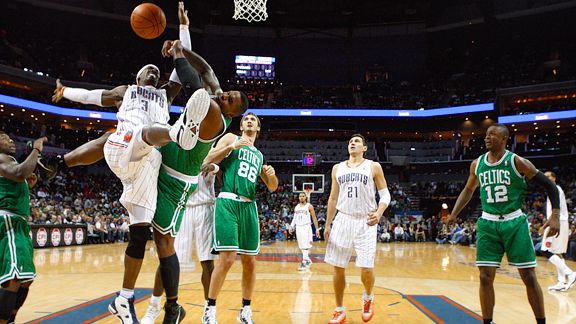 Streeter Lecka/Getty Images
Gerald Wallace and Glen Davis collide near the basket.Five observations from afar after the Boston Celtics defeated the Charlotte Bobcats 93-62 Saturday evening at Time Warner Cable Arena in Charlotte, N.C.:
--NO STYLE POINTS AS STREAK REACHES DOUBLE FIGURES--
The Celtics have slowly put together one of the ugliest 10-game winning streaks in NBA history, but homecourt advantage in the playoffs is decided by wins, not style points. Boston came out flat, watched Ray Allen and Paul Pierce struggle from the floor (combined 2-for-11 shooting in the first half) and turned the ball over nine times before the intermission, yet still led by 10 points at the break. The Celtics shot a season-worst 43.7 percent overall and gave the ball away 19 times leading to 17 points (27.5 percent of Charlotte's total output was off of turnovers) and still won the game by 31 points. There's something to be said for finding a way to win when you're not at your best, and the Celtics have pulled out two in a row -- once at the buzzer, one in breezy fashion -- when things were not always clicking. Boston players and coaches are fond of noting that, by taking care of games like this, the Celtics are hoping to avoid a situation like last year, where the most important game of the season was on the road.
--DEFENSE NEVER RESTED, EVEN WHEN OFFENSE DID--
AP Photo
Paul Pierce makes a nice chasedown swat.The Bobcats weren't exactly an offensive juggernaut entering Saturday's game, but Boston sure made it difficult for Charlotte to generate points. The Bobcats connected on a mere 33.8 percent of their shots (24-of-71 overall) while missing 10 3-pointers (1-of-11 overall) and 10 free throws (13-of-23 overall). The Celtics generated 15 of Charlotte's 22 turnovers off steals and added a season-high 10 blocked shots (Paul Pierce's chasedown swat of D.J. Augustin in the first quarter highlighting the lot). Boston also finished with a 48-38 advantage in rebounds despite playing without Shaquille O'Neal (Charlotte had only six second-chance points) and a 22-9 edge on fastbreak points (the Celtics' defense was able to get back and get set on all but seven possessions).
--SEMIH'S SLEEPING LATE ON SUNDAY--
Making his second consecutive start with Shaquille O'Neal sidelined again by a sore right calf, rookie center Semih Erden logged a career-high 41 minutes, which left Celtics coach Doc Rivers joking after the game that Erden was "probably passed out in the locker room." Only once before had Erden played more than 20 minutes (21:13 vs. Washington on Nov. 17), but he responded well to increased time, registering 10 points, seven rebounds, four blocks, a steal, and a ridiculous plus-35 in the plus/minus category (Marquis Daniels was second best on the team at plus-24). Erden highlighted his night with a emphatic late-game alley-oop slam off a fastbreak lob from Von Wafer (Nate Robinson and Allen springing off the bench to celebrate the jam that left Erden swaying on the rim for a few moments). With Boston desperate for healthy big bodies, Erden is playing through the pain of left shoulder and right thumb issues, and only getting better with increased action.
--A TRADE RUMOR REVISITED--
In early February, trade rumors suggested the Celtics and Bobcats were involved in discussions about a deal that would have been built around a Glen Davis-for-D.J. Augustin swap. At the time, it made some sense for Boston as Davis had missed the first 27 games of the year due to an off-the-court incident that left his right thumb fractured, while Augustin would have added much-needed point guard depth (the Celtics later obtained Nate Robinson from the Knicks). But examining that trade now, it's almost laughable considering the divergent performance of the two players Saturday night. Davis continues to make a case to be in the conversation for Sixth Man of the Year, chipping in a team-high 16 points off the bench, while adding seven rebounds, a block, and a plus-14 in the plus/minus over 25 minutes (not to mention another charge, his 27th of the season). Augustin started at point guard and missed all eight shots he took in a scoreless performance, while committing four turnovers and finishing at minus-12. Needless to say, Celtics fans would scoff at such a proposal now, even with Davis in a contract year.
--KICK OFF YOUR SHOES, RELAX YOUR FEET--
Comcast Screenshot
Get comfortable, boys.With the Celtics up 25 with little more than two minutes to play, the television broadcast showed Boston's starting lineup (minus Erden, who was still throwing down vicious dunks) on the bench taking off their shoes and tape. Yes, even with a three-day break looming, one of the biggest benefits of Saturday's lopsided triumph was the Celtics' ability to limit starter minutes. Rajon Rondo topped the group at 31:18, while the Big Three of Ray Allen (30 minutes), Paul Pierce (28:37), and Kevin Garnett (23:26) all clocked in well below their season average. Besides Pierce and Erden, the starters took the fourth quarter off, allowing reserves like rookies Avery Bradley and Luke Harangody to log valuable court time during the final frame. Wafer quietly put up another strong, defense-first effort, scoring five points and handing out four assists (two to Erden late in the game) over 12 minutes. Marquis Daniels, quiet in recent games, scored 10 points on 4-of-7 shooting with six rebounds and three steals over 25 quality minutes.