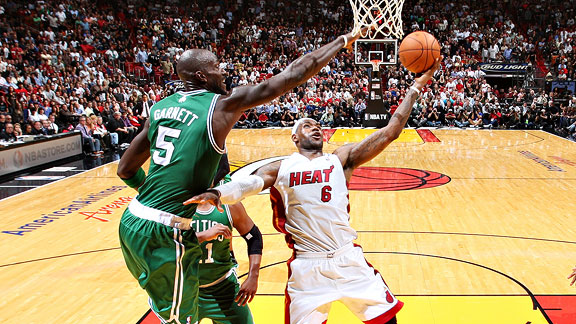 Nathaniel S. Butler/NBAE/Getty Images
Kevin Garnett and LeBron James have both led their Eastern Conference powers on long win streaks.ESPN.com's John Hollinger examines the three extended winning streaks

in the East and how impressive they are at this point. Here's the blurb on the Celtics:
Based on recent history, the Celtics' win streak will end in Indiana on Dec. 28. I say this not out of any great affinity for the Pacers but because of Boston's amazing pre-Christmas track record in the Kevin Garnett era and its rather ordinary post-Christmas performance.

In the four seasons since Garnett arrived, the Celtics are a ridiculous 91-15 (.858) in games on or before Christmas but a more pedestrian 106-57 (.650) afterward. Last season was their most extreme yet, as they ran their record to 23-5 after an impressive Christmas Day win in Orlando before limping home at 27-27.

The current win streak has been impressive. The Celtics began it with a 23-point beating of the Hawks in Atlanta -- a team that swept them 4-0 in last season's series -- and added double-digit wins at home over Denver and Chicago and a 31-point smackdown of Charlotte. Although there were a couple of narrow skate-bys -- at home against Portland and on the road in Philadelphia -- the Celtics' scoring margin has been plus-14.6 points per game. However, it has come against a fairly easy slate -- their opposition has a record of 101-127 (.443) when not playing Boston.

Like Miami, Boston has a schedule that could allow its streak to extend for quite a while. The Celtics have a back-to-back against New York and Atlanta this week -- not easy, but survivable -- and will visit Orlando on Christmas. If they get through those games, and if we put their post-Christmas history aside, their next tough test would be Jan. 5 in Boston against the Spurs. By then they'd be carrying a 20-game winning streak.
Click HERE

to read the full story.