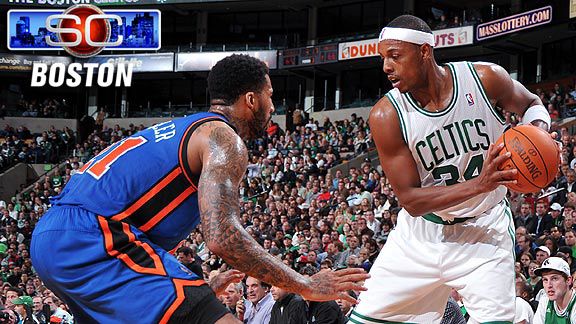 Brian Babineau/NBAE/Getty Images

Don't call it a rivalry ... yet.

Peter May provides a history lesson on when Celtics and Knicks were a true rivalry:
AP Photo/Peter Southwick

When it was a rivalry: Patrick Ewing vs. Larry Bird at the Garden.One dormant rivalry remains for Pierce to sample, and Wednesday night might well present itself as the 21st-century kickoff of the renewal of Celtics-Knicks hostilities. The Knicks are (supposedly) back, sporting a 16-9 record and having won eight in a row. (Boston has won 10 straight.) They trail the Celtics by only four games in the standings and will be counting on a large, boisterous Madison Square Garden crowd to get them going in this one. It's the second game of a three-game "temperature check" week for the Knicks, who beat Denver on Sunday and face red-hot Miami on Friday.

Inarguably, it sets up as the biggest Celtics-Knicks regular-season game in decades. One of the last truly meaningful games between these two teams was May 6, 1990, when the Knicks won Game 5 of their first-round playoff series, rallying from a 2-0 hole to do so. They won the deciding game in Boston, snapping a hellish losing streak to the Celtics, in a contest that was marked by Larry Bird missing a crucial dunk and coach Jimmy Rodgers getting fired soon thereafter.

Since then, you'd have trouble finding an important Celtics-Knicks game, in that one team or the other was usually pretty bad. As for Celtics history, you can point to the Christmas Day debacle in 1985, when they blew a 25-point third-quarter lead and lost in double-overtime to a bad Knicks team. That proved to be a turning point for the 1985-86 team, which would steamroll the rest of the way to an NBA title.

When the Knicks were heading toward the Finals and becoming an Eastern Conference power under Pat Riley, the Celtics were in decline, reeling from the retirements of Larry Bird and Kevin McHale. When the Knicks were battling Riley's Miami Heat for conference supremacy in the late 20th and early 21st centuries, the Celtics were floundering under Rick Pitino.

When the Celtics finally did turn things around in 2007 with their new Big Three, the Knicks were in complete fire-sale mode, shredding names and numbers with an eye on the summer of 2010. To put things in perspective, the Knicks won 84 games the past three seasons. The Celtics won 66 in 2007-08 alone.
Click HERE to read the full story.