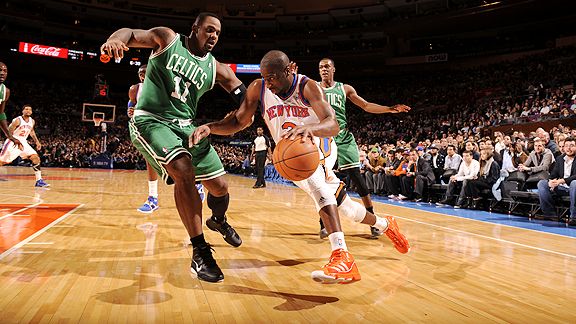 Lou Capozzola/NBAE via Getty Images
Glen Davis and the Celtics put a stop to the Knicks' eight-game winning streak.NEW YORK -- First impressions after the Boston Celtics defeated the New York Knicks 118-116 Wednesday night at Madison Square Garden:
HOW THE GAME WAS WON
The Celtics' defense tightened up when it mattered most down the stretch and Paul Pierce canned a 14-foot step-back jumper over New York's Amare Stoudemire with 0.4 seconds remaining as Boston stunned a Knicks squad that led for most of the night. Pierce scored a game-high 32 points on 10-of-18 shooting and added 10 rebounds and four assists over 41 minutes. Rajon Rondo (10 points, 14 assists) and Kevin Garnett (20 points, 13 rebounds) added double-doubles for Boston. Stoudemire produced his ninth consecutive 30-point game, scoring a game-high 39 points.
TURNING POINT
The Celtics rallied from a double-digit third-quarter hole to knot the game at 94 with 8:34 to play, but Boston's defense disappeared. The Knicks scored on seven straight possessions, including Danilo Gallinari blowing past Pierce for a baseline jam and -- after a Boston miss -- Raymond Felton splashing a 3-pointer as New York opened a two-possession lead. But a Ray Allen 3-pointer in the final minute helped set up Pierce's winner. Stoudemire hit a 3-pointer that came just a hair after the buzzer.
STAT OF THE GAME
The Knicks shot 53.1 percent from the floor (43-of-81), but Boston still found a way to win a shootout, benefiting from 17 New York turnovers.
UNSUNG HERO
Nate Robinson provided a nice spark in his old confines, chipping in nine points off the bench and finishing a glossy plus-12 in the plus/minus.
WHAT IT MEANS
Do we have a rivalry yet? The Celtics took care of business, extending their winning streak to 11 games, but probably walk out of MSG with a lot more respect for the Knicks than they walked in with. This was a prize fight with a fourth quarter full of haymakers. Boston decided to play some late-game defense to give itself a chance to win, and ended the Knicks' eight-game streak in front of a deflated crowd. The teams don't meet again until Boston treks back to New York on March 21.