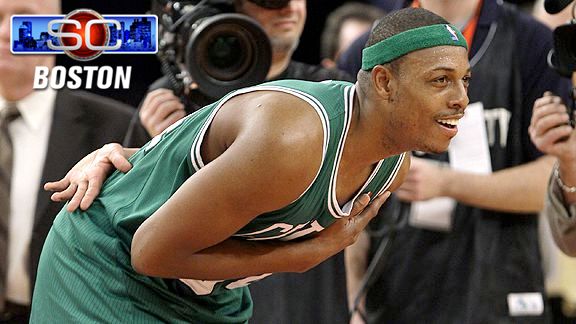 AP Photo

Paul Pierce takes a bow after his masterful performance against the Knicks at Madison Square Garden.

Paul Pierce relished playing the role of villain, putting a dagger in the Knicks with 0.4 seconds to play Wednesday night at Madison Square Garden:
NEW YORK -- Like a play that opened off Broadway, the New York Knicks knew the ending before it unfolded Wednesday night.

Some had seen the closing scene unfold during runs in other cities, but the entire team got an in-person sneak peek a little more than two months ago when the cast swung through New York in mid-October for a limited engagement.

On Wednesday, Paul Pierce and his Boston Celtics castmates returned for another Big Apple performance and didn't miss a step. The scenes unfolded virtually identically to the preseason preview: a seesaw battle with a late rally by the antagonist, closed out by the villainous Pierce coldly burying a late-game jumper to steal a win.

Try as they might, the upstart Knicks could do little to alter the climax. An arena shaking with emotion for more than 2 1/2 hours went silent as Pierce did a familiar home run trot across the famed Madison Square Garden parquet, his 14-foot jumper over Amare Stoudemire, lifting the big bully Celtics to another victory in a still-lopsided rivalry between Atlantic Division foes.

Many fans didn't even stick around for the cruel twist at the end, trickling out into the cold before referees even reviewed Stoudemire's just-missed-the-buzzer 3-pointer that came after what Pierce admitted was his lone misstep: leaving a fraction of a second -- four-10th to be exact -- on the clock.

And while it was to merely scattered boos and a couple of groans from what remained of the sellout crowd to witness the official declaration of Boston's thrilling 118-116 triumph Wednesday night, Pierce, like any good performer, took a bow before departing the stage. (Nate Robinson wasn't nearly as graceful, nearly suffering a face-plant while trying to leap on Pierce's back after the winner.)

"I love these type of environments," Pierce said. "It's rare when you get these type of environments in the regular season. There's only so many games you circle on the schedule, where you say, 'Hey, this is going to be a playoff-type atmosphere, a playoff-type game.' The guys on this team know what they are and this was definitely one of them. We love these games."
Click HERE to read the full story.
More: Sheridan: Measuring sticks | ESPN NY: Rivalry Reborn | Daily Dime: Rivalry Feeling