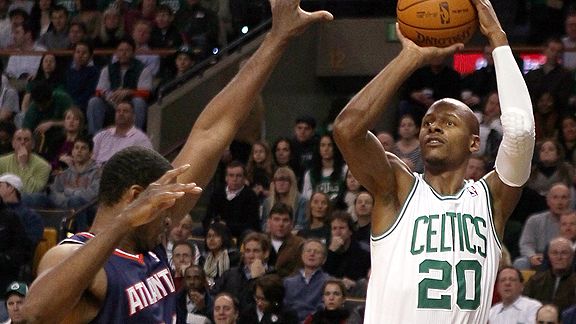 Elsa/Getty Images
Ray Allen launches a 3-pointer Thursday against the Hawks.BOSTON -- First impressions after the Boston Celtics defeated the Atlanta Hawks 102-90 Thursday night at TD Garden:
HOW THE GAME WAS WON
It lacked all the glitz and glamor of Wednesday's barnburner in New York, but the Celtics, playing with a mere nine healthy bodies after Von Wafer (sore back) departed in the second quarter, gutted out the latest triumph on a 12-game winning streak that lacks all style points. Kevin Garnett (17 points, 14 rebounds) and Paul Pierce (15 points, 10 assists) produced double-doubles, while Ray Allen and Glen Davis both produced a team-high 18 points. Atlanta hung around for a while on the play of Marvin Williams, who scored a game-high 26 points on 9-of-15 shooting, while Jeff Teague filled the void of Jamal Crawford, scoring 18 points on 8-of-11 shooting off the pine.
TURNING POINT
The Celtics were clinging to a one-point lead midway through the third quarter, but erupted for seven points in 52 seconds, highlighted by an emphatic dunk by Semih Erden while running the floor in transition and an off-balanced 3-pointer from Paul Pierce for a 64-56 advantage with 5:11 to play in the frame. The burst injected life into a sleepy Garden and Boston kept the Hawks at arm's length the rest of the way.
STAT OF THE GAME
The Celtics were outworked on the glass, the Hawks finishing with an 37-33 advantage overall, but Boston overcame that -- and a mere four fastbreak points for the night (Atlanta had 14) -- to scrape together the win.
UNSUNG HERO
Semih Erden joined a total of six Celtics in double figures (including all five starters), putting up 10 points on 5-of-6 shooting over 24 minutes in his third consecutive start. The only negative: Erden pulled a "Mark Blount," failing to grab a single rebound during his time on the court, no easy task for a near 7-footer with extended court time.
WHAT IT MEANS
The Celtics extended their winning streak to 12 games, matching the Dallas Mavericks and San Antonio Spurs for the longest streak in the NBA this year. With only Indiana and Philadelphia looming before a Christmas showdown in Orlando, Boston will look to extend their streak in the face of mounting injuries.