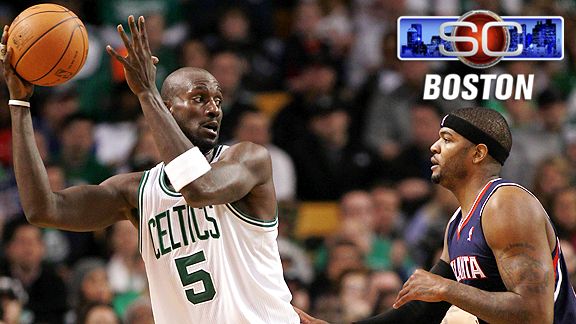 Greg M. Cooper/US Presswire

Kevin Garnett's work on Josh Smith helped Boston's cause Thursday.

BOSTON -- Boston Celtics coach Doc Rivers is notorious for keeping his youngest players glued to the bench, save for in certain cruise-control situations. That's why it was somewhat jarring to see rookies Avery Bradley and Luke Harangody at the scorer's table in a one-possession game late in the first quarter Thursday night.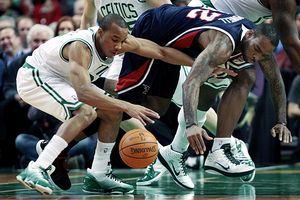 AP Photo/Charles Krupa
Celtics rookie Avery Bradley got in four minutes of play in Thursday's win over the Hawks.This is what it's come to for Rivers. With his team decimated by injuries, but hell-bent on limiting minutes for his most veteran players, Rivers sent the Bradley/Harangody combo onto the floor -- just 63 minutes of court time between them previously -- while fetching spot starters Semih Erden (another rookie) and Nate Robinson from Thursday's tilt with the Atlanta Hawks.
On a night when Rivers informed his squad that it would be without Rajon Rondo (ankle) for "one or two" weeks, the Celtics leaned on a 19-year-old (Bradley) to fill the void of an All-Star floor general. On a night when Shaquille O'Neal needed a third straight game off to rest a sore right calf, Boston asked a rookie who was 4 years old when O'Neal made his 1992 NBA debut (Harangody) to help fill his size 22 shoes.
"We were playing with Semih, two [rookies], and then Von [Wafer] went down [before] halftime," Kevin Garnett said when asked if this was Boston's gutsiest win of the season. Wafer's injury -- a sore back that has hobbled him in recent days -- left Boston with only nine available bodies since Rondo and Shaq were technically on the active roster with the team already deactivating Delonte West (wrist), Jermaine O'Neal (knee) and Kendrick Perkins (knee). "I mean, [captain Paul Pierce] said it before the game: 'This is going to be more mental than anything.' I think everybody is playing; everybody is giving everything they have. And in order for us to win these games, we're just going to have to grind it out until we get the guys back."
Added Garnett: "We just got the news about Rondo, and Shaq wasn't available today. So what are you going to do? You can quit … but that is not the way we do things around here. We work. So 'gutsy' is an understatement."
Click HERE to read the full story.