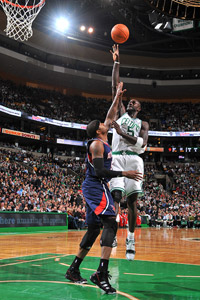 Steve Babineau/NBAE/Getty
Celtics forward Kevin Garnett wants all the rebounds he can get.With the Celtics missing what Doc Rivers dubbed "21 feet of centers" (Jermaine O'Neal, Shaquille O'Neal, and Kendrick Perkins are all sidelined by injuries), maybe it should come as no surprise that Kevin Garnett is dominating the defensive glass. Sure, he's been doing it much of the season, his glossy 31.4 defensive rebounding rate maybe the biggest indication of just how spry a healthy Garnett looks further removed from knee surgery. But, especially now, with no other experienced big around him, he's really attacking the defensive glass.
Just ask poor Semih Erden.
Erden, the 6-foot-11 rookie center thrust into the starting lineup due to those frontcourt injuries, posted what we affectionately call, "The Mark Blount"* Thursday, failing to haul in a single rebound despite nearly 24 minutes of action as a starter. One reason: Garnett goes up so aggressively for the ball, Erden isn't going to fight him.
"He's a big rebounder," Erden said while laughing after Thursday's game. Evidently, he didn't catch many of Garnett's games on NBA League Pass last season, when his defensive rebounding rate dipped to a mere 24.8 percent. This year, Garnett is second in the league in total defensive rebounds (behind only Minnesota's Kevin Love).
On Thursday, Garnett hauled in 11 of 26 available defensive rebounds during his time on the floor (a whopping 42.3 percent), while producing nearly half of Boston's total 24 defensive rebounds overall.
"At this point, I'm trying to get every rebound out there," admitted Garnett. "Perk's out, Shaq's out, and I'm telling [Paul Pierce to] get out of there. Semih comes in and he's taking some. It is what it is."
Erden certainly needs work on his positioning and he's only grabbing 14.2 percent of available defensive rebounds. That number might be slightly higher if not for Garnett.
* For his career, the 7-foot Blount produced a whopping 27 games in which he played at least five minutes and did not grab a single rebound, including my favorite 22-minute, 0-point, 0-rebound effort against the Bulls in 2005 in which he started a game that Boston generated 46 total rebounds.