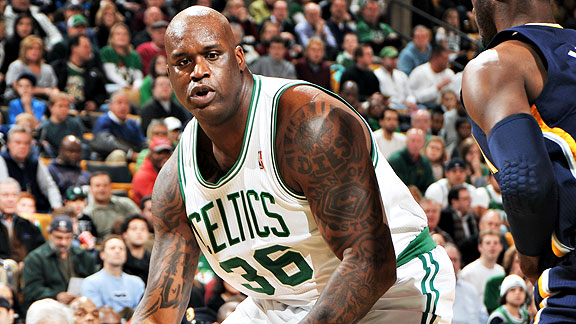 Brian Babineau/NBAE/Getty Images
Shaquille O'Neal returned to Boston's starting lineup Sunday.BOSTON -- First impressions after the Boston Celtics defeated the Indiana Pacers 99-88 in a Sunday matinee at the TD Garden:
HOW THE GAME WAS WON
Paul Pierce produced his sixth career regular-season triple-double and first since March 8, 2006, as he registered 18 points, 10 rebounds and 12 assists over 37 minutes to pace the Celtics to their 13th consecutive victory. Boston leaned on balanced scoring, putting five players in double figures with Nate Robinson and Glen Davis chipping in 18 points apiece. Shaquille O'Neal added 11 points and five rebounds over 22 minutes in his first start after missing four games with a sore right calf.
TURNING POINT
The Celtics, who couldn't produce a double-digit lead until the final moments, were clinging to a six-point cushion with less than five minutes to play when Robinson got scrappy chasing a Kevin Garnett miss, keeping a ball alive and dishing to Pierce, who fed Ray Allen on a 9-foot bank shot to put the Green out front 89-81 with 4:31 to play. The Celtics' defense had four straight stops around the same time, holding Indiana at bay when Boston couldn't quite produce the dagger.
STAT OF THE GAME
The Pacers shot a mere 36.5 percent from the floor, but hoisted a ridiculous 96 shots (Boston only took 76) and utilized 16 offensive rebounds to generate 19 second-chance points.
UNSUNG HERO
Robinson played a Rajon Rondo-like 42 minutes, hitting 7-of-15 shots, and his scrappy play over the final two quarters aided Boston in keeping the Pacers' at arm's length.
WHAT IT MEANS
Just another gritty win for Boston, which is leaning on Pierce to drive the offense in the absence of Rondo. Boston extends its winning streak to 13 games -- the longest in the NBA this season -- with only a visit from the Philadelphia 76ers looming before a Christmas showdown against the overhauled Orlando Magic.