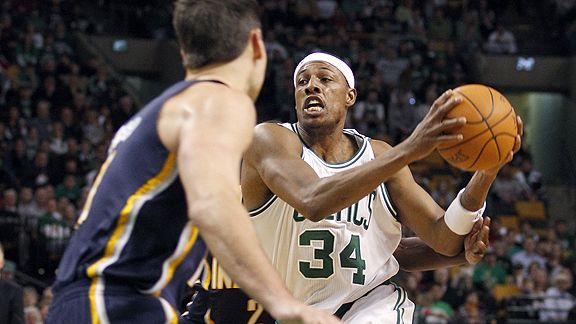 AP Photo/Mary Schwalm
Paul Pierce showed he's more than a scorer Sunday vs. the Pacers.BOSTON -- The compliment gets thrown in his direction fairly often and it's almost always sincere, especially when delivered by those who have observed all the greats: Paul Pierce is the best scorer in Boston Celtics history. And that's saying something considering the likes of John Havlicek and Larry Bird have worn the jersey.
But Pierce wouldn't mind someday being regarded as one of the most complete players in Celtics history. On Sunday against the Indiana Pacers, he gave the latest example of why he deserves to be in the conversation.
With Boston again playing without All-Star point guard Rajon Rondo (sprained left ankle), Pierce produced his second consecutive double-digit assist game, handing out a game-high 12 dimes. Pierce added 18 points and 10 rebounds for his seventh career triple-double in a 99-88 triumph over the Pacers at TD Garden.
"He's the chameleon," said Celtics coach Doc Rivers, a fitting description of a player who has spent his entire 13-year career in green, but found ways to adapt to those around him. "We would rather, honestly, have him in scoring mode all the time. But with this team, especially with the injuries, he's been a phenomenal utility player for us."
Pierce didn't just play the "point forward" role Sunday, he produced one of the most efficient efforts of his career. While logging nearly 37 minutes, he took only eight shots, hitting everything he put up inside of the 3-point arc.
For his career, Pierce has had only five games in which he's logged more than 35 minutes and taken only eight shots, and three of those games have come this season. Normally such a stat line would come when Pierce's shot isn't falling and he has to contribute in other areas, typically on the glass.
But Sunday, the Celtics needed a distributor, and Pierce was happy to play the role.
Click HERE to read the full story.