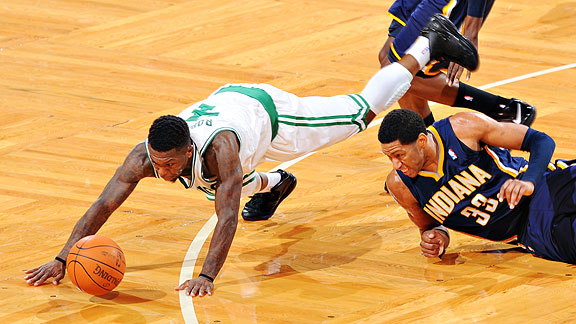 Brian Babineau/NBAE/Getty Images
Nate Robinson gets scrappy to chase down a fourth-quarter rebound Sunday vs. the Pacers.When Nate Robinson is given film cuts from the Boston Celtics' win Sunday over the Indiana Pacers, coaches should provide a single eight-second clip playing on an endless loop: A fourth-quarter hustle play that not only produced a key late-game basket but embodied everything the Celtics want out of Robinson.
With Boston clinging to a six-point lead with less than five minutes to play, an offensive series broke down and -- with all five Celtics essentially standing around -- Kevin Garnett fired a 19-footer that rattled out of the rim. Boston doesn't put a premium on offensive rebounding, and Garnett and three others who were 20-plus feet from the basket immediately started moving backward to get set on defense.
But Robinson saw an opening and did what he does best. He didn't overthink the play. He crashed from the baseline in front of the Pacers' bench, tipped the ball away from Darren Collison, then did the same with Danny Granger before sprawling out over the Indiana forward to corral the ball while tumbling to the floor.
Robinson then fed Paul Pierce from the seat of his pants, and the ball quickly swung to Ray Allen, who got his defender off his feet before driving and banking home an 9-footer for an eight-point lead with 4:32 to go. It proved to be a pivotal bucket in a 99-88 triumph.
"It's just one of those plays where I'm running and never giving up on the ball, no matter what," Robinson said. "I wanted the ball, I wanted that rebound."
That's exactly the type of effort the Celtics have wanted out of Robinson since he arrived in Boston in a five-player swap that sent Eddie House, Bill Walker and J.R. Giddens to the New York Knicks at the trade deadline last season.
Click HERE to read the full story.