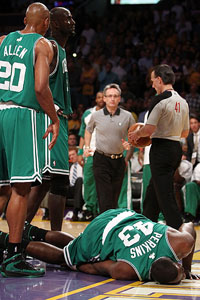 Christian Petersen/Getty Images
Kendrick Perkins is on the floor after suffering a serious knee injury in Game 6 of last season's NBA Finals.WALTHAM, Mass. -- After being fitted for a new knee brace last week in preparation for the next step in his recovery from offseason ACL surgery, Boston Celtics center Kendrick Perkins briefly tested out his range of motion, then walked onto the practice court and dunked a ball.
"Just to make sure I still can," Perkins deadpanned.
He dunked again Tuesday, this time with more eyes watching him as the Celtics hosted the first of a handful of open practices at the Sports Authority Training Center at HealthPoint. It was a moment that might have gone unnoticed if Boston's entire session hadn't been open to the media, but the circumstances gave Perkins an audience to showcase the latest step -- or maybe "leap" is more appropriate -- in his recovery from an injury suffered in Game 6 of last season's NBA Finals.
"Perk looked great for what he did, he actually dunked a couple times," Celtics coach Doc Rivers said. "That's good. He's in great shape and that's one thing. He's worked so hard."
Little more than five months after undergoing ACL surgery in mid-July, Perkins underwent a MRI last week to gauge his healing. With his doctors satisfied with his progress, Perkins was fitted for a new brace for his right knee and cleared by the Celtics' medical staff to participate in noncontact drills with the team.
So, for the first time since Perkins' knee gave out as he battled the Los Angeles Lakers' Andrew Bynum for a rebound midway through the first quarter of Game 6, Perkins rejoined the Big Three on Tuesday to run through skeleton drills.
"He's done a couple of things with the second unit, but since they don't know any of our plays, it didn't work out as well," Rivers joked. "He's done a couple of things, but today was his most active. He even did the warm-up [stretching and conditioning] and he's never done any of that."
Perkins admitted he was surprised by how comfortable he felt back on the floor for the short run-through of basic drills. Plenty of hurdles remain as Perkins works toward a return to game action, but Tuesday started the process of getting over a hurdle that's unlikely to fall even when he does put on a game jersey again: The mental challenge of trusting his right knee.
Click HERE to read the full story.