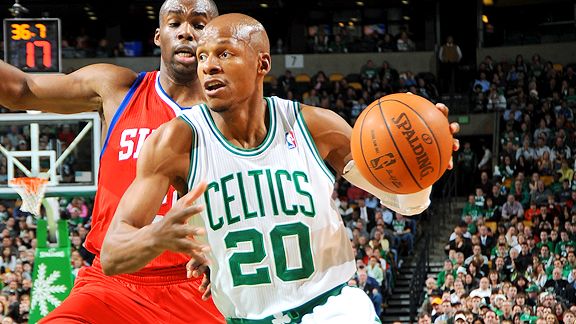 Brian Babineau/NBAE/Getty Images
Ray Allen carried the Boston offense yet again against the 76ers.BOSTON -- First impressions after the Boston Celtics defeated the Philadelphia 76ers 84-80 Wednesday night at TD Garden:
HOW THE GAME WAS WON
The Celtics shot a mere 38.8 percent, were plagued by foul trouble throughout the early stages of the game, yet still found a way to emerge with another gritty win that has decorated this 14-game winning streak. Ray Allen scored a game-high 22 points, offsetting a night in which Paul Pierce, Kevin Garnett, and Glen Davis (a combined 10 of 34 overall from the floor, 29 points) didn't have their typical shooting touch.
TURNING POINT
Pierce, 3-of-14 to that point, came off a pick-and-roll with Shaquille O'Neal and, despite not having a great look, canned a 19-foot jumper to put Boston on top, 82-78, with 1:36 to play. It was Boston's first two-possession lead since late in the third quarter and proved enough to keep the 76ers at arm's length the rest of the way. Garnett essentially sealed the win with a block on Andre Iguodala in the final seconds.
STAT OF THE GAME
After giving up 22 fast-break points in the first meeting between the two teams, the 76ers generated a mere seven fast-break points with Boston putting an emphasis on transition defense (particularly key on a night when 49 shots didn't fall for the Celtics).
UNSUNG HERO
Playing just his second game since missing four straight due to a sore right calf, Shaquille O'Neal logged 28 minutes -- well above his season average of 22 minutes per game -- and was the crunch-time center of choice (on a night Davis struggled). O'Neal hit a pair of free throws with 4:33 to go, but missed two tries that might have put the game away with 61 ticks remaining (and was soon lifted in favor of Davis). O'Neal finished with 13 points and nine rebounds.
WHAT IT MEANS
The Celtics tried desperately at times to fumble this one away, but still found a way to win, their starters coming up big in the final five minutes, particularly on the defensive end. The winning streak stands at 14 heading into a Christmas Day showdown against the Orlando Magic with more help on the way if Jermaine O'Neal can get back on the floor for the holiday battle.