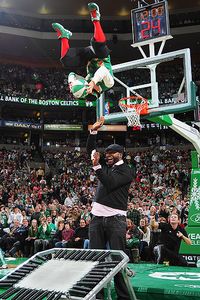 Brian Babineau/NBAE/Getty
Red Sox slugger David Ortiz lends a hand with Lucky's dunk show.Red Sox slugger David Ortiz is a familiar face at the TD Garden, often sitting courtside during the baseball offseason. Often he gets drafted by Lucky, the Celtics' mascot, to hold the ball for his flip-slam finale to the in-between quarter dunk show.
But Wednesday night, Ortiz could be seen offering a little shooting advice to Celtics big man Shaquille O'Neal before a pair of pivotal free throws with 4:33 remaining in the fourth quarter and Boston down by four. O'Neal, who later admitted to missing "thousands" of free throws, calmly connected on both tosses from the charity stripe, aiding the Celtics in their comeback effort during a rare crunch-time appearance on the floor.
"We had Papito down there doing some sideline coaching," said Kevin Garnett . "Good looking [out], appreciate that. That was definitely love."
Garnett then couldn't contain laughter as he chortled thinking about what he had said, before lofting praise on O'Neal for his efforts in Wednesday's win over the Philadelphia 76ers.
Of course, only a 7-footer like Kevin Garnet can call him Little Papi. Side-by-side, Garnett actually does makes Ortiz looks (somewhat) small.