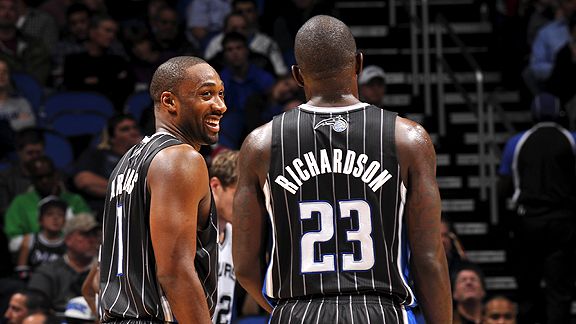 Fernando Medina/NBAE via Getty Images
The Celtics will see new faces in Orlando on Christmas Day.The Celtics have seen plenty of the Magic over the years, but not these Magic. They'll face a very different squad on Christmas Day, writes Peter May:
The cachet of playing on network television on Christmas Day, supposedly, is that your mere presence reflects that you are a good team that will draw viewers and interest. That's the thinking, anyway, when the schedule makers emerge from their smoke-filled room in the summer and announce the national TV schedule.

The Boston Celtics have held up their end of the deal. They've won 14 in a row and 23 of their past 27. Their Christmas opponent, the Orlando Magic, have held up their end, as well, but not for the same reasons.

The Magic are 17-12. Before their decisive 123-101 win over the San Antonio Spurs on Thursday, they had lost four straight and eight of nine. But they boast a radically restructured roster from the one they had when the schedule came out, and therein lies the intrigue.

Want to see Vince Carter take stupid shots against the suffocating Celtics defense? Sorry. Want to see Rashard Lewis hoist 3-pointers? Ain't gonna happen. Thanks to a couple of megadeals last week, the Magic that the Celtics will face for the first time this season are back in training camp mode, a classic work in progress.

Carter was dealt to the Phoenix Suns along with Marcin Gortat and Mickael Pietrus for Jason Richardson, Hedo Turkoglu and Earl Clark. Lewis, owner of arguably the worst contract in the NBA (and that is saying something as long as Darko Milicic is in the league) was dealt to Washington for the poster boy of the Second Amendment, Gilbert Arenas.

"It's interesting, that's for sure,'' Celtics coach Doc Rivers said of the Magic's changes. "We have to throw away all the scouting reports and do it all over again, so that's no fun. They've added talent, there's no doubt about it. Whether they can get it together, we'll see."
Click HERE to read the full story.