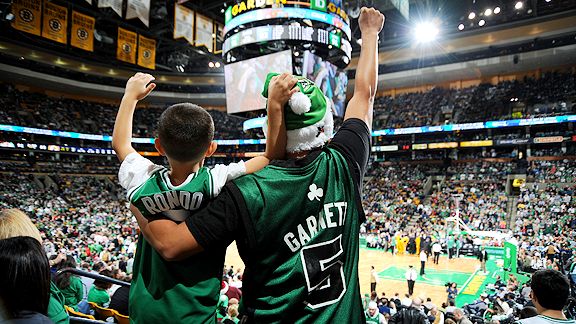 Brian Babineau/NBAE/Getty Images
All Celtics fans want for Christmas is a win over the Magic.A handful of stray thoughts and numbers, with help from ESPN researchers, before the Celtics and Magic tip off Saturday afternoon (2:30 p.m., ABC):
--HEALTHY KG, HAPPY CELTICS--
Celtics coach Doc Rivers hasn't hid from the fact that much of Boston's success this season, particularly in the face of injuries, is a result of a healthy Kevin Garnett. While plus/minus is a flawed stat, it helps show Garnett's impact on the team this year: He's second in the NBA at a whopping plus-293 (only trailing Miami's Chris Bosh).
"He's better than he was the last two years," admitted Rivers. "Health-wise, I think he's pretty much back to where he was three years ago [during the 2008 championships season]. In a lot of ways, he may be better with the team. Now the team is better and that makes him even better.
"He sees the floor, he's a point guard on defense. He sees coverages, smells this out. He's just good."
Asked if he's the best defensive player in the league this season, Rivers wouldn't disagree. Garnett is helping Boston average the second best defensive efficiency in the league, allowing only 0.99 points per possession.
"Dwight Howard is pretty good, too, but they're different," said Rivers. "Definitely, I think he's the best linebacker in the league, very much like Mike Singletary with the [NFL's Chicago] Bears. He's our eyes, calling out coverages, that's what he is."
--SHAQ'S 13TH CHRISTMAS APPEARANCE--
Shaquille O'Neal is making his 13th appearance on Christmas Day, tying him with Dolph Schayes and Earl Monroe for the NBA record (Kobe Bryant also joins that group on Saturday). Shaq has put up good numbers on the holiday, but his win-loss record isn't as glossy.
O'Neal's teams are 6-6 on Christmas as he's averaged 22.5 points per game, while shooting 53.6 percent from the floor and adding 12.8 rebounds and 2 blocks per game.
--MAGIC ARE A THORN IN BOSTON'S SIDE--
In the Big Three era, no team has given Boston more fits than Orlando. The Celtics are a mere 4-7 against the Magic, their worst record against any team since the start of the 2007-08 season, and it's not really even close (the majority of their other struggles have come against Western Conference foes and their record is never worse than .500). A glimpse at that list of toughest opponents:
vs. Magic - 4-7 - .364 winning percentage
vs. Cavaliers - 7-7 - .500
vs. Suns - 3-3 - .500
vs. Warriors - 3-3 - .500
vs. Lakers - 3-3 - .500
vs. Jazz - 3-3 - .500
--MAGIC ARE MIXING AND MATCHING--
The Magic have utilized 10 different starting lineups this season, which is among the most in the league. And now, with the additions of Hedo Turkoglu, Jason Richardson, Earl Clark, and Gilbert Arenas, those lineup combos could grow even more. The teams with the most varied lineup combos this season:
Wizards - 12
Magic - 10
Kings - 10
Raptors - 10
The Celtics, even with injuries, have used just five different starting lineups. The most common: Pierce-Garnett-Shaq-Allen-Rondo is 10-2 overall. With Jermaine O'Neal at starting center, the team is 4-1, while Nate Robinson is 5-1 in place of Rajon Rondo. Semih Erden is undefeated as a starter, with Boston winning four games with him in the starting lineup.
--LOOSE BALLS: THESE STREAKS NOTHING NEW TO BIG THREE--
* This is the fifth Celtics' winning streak of 10+ games since the Big Three of Paul Pierce, Kevin Garnett, and Ray Allen were united. Since the 1985-86 season, those five streaks are the only win streaks of 10+ games that Boston has had.
* Bad news for opponents: Not only are the Celtics on a 14-game winning streak and still waiting to get back healthy bodies, Boston currently projects to have the second easiest remaining schedule in the NBA with opponents standing at a .469 winning percentage. Only the Bulls have an easier projected slate.
* The Magic have not been much of a running team this season. Orlando averages only 8.7 fastbreak points per game, which is fewest in the NBA. Part of the reason for this is that the Magic play at the third-slowest place in the NBA. The Magic average only 91.3 possessions per game this season, ahead of only the Blazers and Hawks.