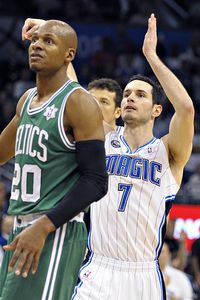 AP Photo/Phelan M. Ebenhack
Ray Allen, who was pestered by J.J. Redick all day, watches as Redick hits a key shot late in the Magic's win Saturday.The Boston Celtics closed out practice Tuesday doing five-on-five half-court work and, on the final play, the green-clad starters cranked up their intensity a few notches and created a defensive stand that left the white-clad reserves, who had been competitive to that point, paralyzed offensively.
"The first unit knows that, whenever they want to, if they up their pressure, they can take the second unit out of anything they want to run," Celtics coach Doc Rivers said later.
And therein lay one of Boston's secrets to success during its low-on-style-points 14-game winning streak -- ramp up the defensive intensity late to salt away the win. Half of the 14 victories were decided by single digits, with the Celtics' opponent often hanging around for 3½ quarters before the Boston starters clamped down defensively.
But on Saturday, that formula fell apart as Boston's defense couldn't get it done, and instead the Orlando Magic tightened up, helping the home team snap Boston's winning streak with an 86-78 triumph at the Amway Center.
The Magic outscored Boston 15-1 over the final 3:20 of the game, mixing some inspired defense with clutch shooting as the Celtics let a 12-point lead slip away, coming undone at both ends of the court.
Click HERE to read the full story.