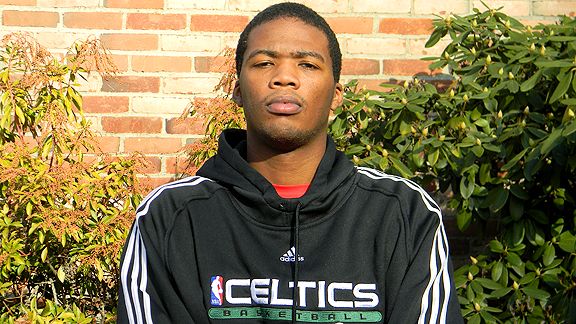 Brendan Hall/ESPNBoston.com
Adam Jones decked out in a Celtics' sweatshirt.Few stories are as inspiring as that of St. Thomas More boys' basketball forward Adam Jones. Just ask Jones' coach -- or his legal guardian, Celtics coach Doc Rivers, writes Matt Stout:
Since the fifth grade, Jones has been close friends with Austin Rivers, the son of the then-Orlando Magic coach, Doc, and now the top rated high school senior in the country. Rivers played for the Orlando Dream Team, Jones for the Future, two competing AAU teams whose rivalry resembled a hammer and a nail.

"They would always just happen to win," Jones said.

Eventually, Jones joined the winning side, and to a certain extent, the Rivers family. He'd spent every Thanksgiving and Christmas with them since sixth grade, and by middle school, made their house his summer home. "As soon as school got out, I'd go every there," Jones said, "and the day before school starts, I'd go back home."

Back then, Jones didn't even have a clue who Doc Rivers was.

"He was always Mr. Rivers," Jones said. "But when we were about 14 years old, we were at a tournament and he came into the gym, and everybody was just crowding around him. I was like, 'Austin, why is everybody crowding around your dad? Is he celebrity or something?' Austin was like, 'I don't know.' Later, I heard kids on the team talking, that he is the coach of the Magic. I was like, 'Oh, he is? That's nice.'"

Through that time, as things became harder at home and the Rivers family became more aware of it, Kris told Jones that if he ever needed anything, to call. Still, as he sat in his room crying that night, he poured through his other options. Even as he was rendered nearly homeless in the time after -- forced to sleep on a porch in a certain span -- he felt he didn't want to impose on a family that had already given him so much.

"I debated for hours," Jones said. "But at the end of the day, I was a 15-year-old kid. I couldn't do anything. I don't have a job, I don't have a car, I don't have a license, so I couldn't get around. I couldn't buy a house myself" -- Jones laughed -- "because I didn't have any money. So I was like, 'I have to do this.'

"And I made a phone call."

The Rivers family wondered what took him so long.

"He was already there," Doc Rivers said with a laugh following a recent Celtics practice. "Half his stuff was in his bedroom [at our home] anyway. It was easy."
Click HERE to read the full story.