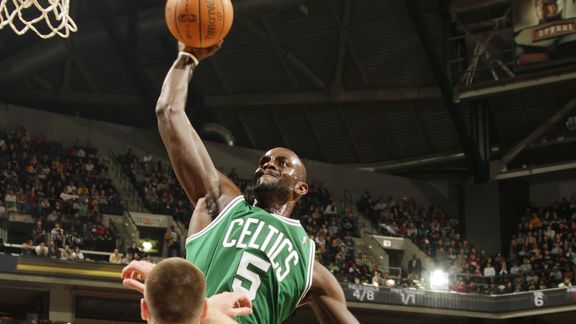 Ron Hoskins/NBAE/Getty Images
Kevin Garnett goes up strong against the Pacers.First impressions from afar after the Boston Celtics defeated the Indiana Pacers 95-83 Tuesday night at Conseco Fieldhouse.
HOW THE GAME WAS WON
Celtics reserves Glen Davis (14 points over 33 minutes) and Marquis Daniels (12 points over 30 minutes) produced the bench spark Boston desperately needed to rally late after a sluggish start. Paul Pierce scored a game-high 21 points on 8-of-14 shooting, hitting all three trifectas he attempted, while handing out seven assists and grabbing five rebounds. Kevin Garnett chipped in a double-double (11 points, 13 rebounds).
TURNING POINT
Riding a second-unit lineup, the Celtics opened the fourth quarter on an 11-0 run to turn a one-point deficit into a double-digit cushion. Ray Allen, the only starter with the group, produced a couple buckets and Davis added two more as Boston surged to a 77-67 lead with 8:38 to go. Daniels added two assists and a 6-foot bunny during the run, the former Pacer producing inspired play at both ends of the floor. Indiana didn't score its first field goal of the fourth quarter until nearly five minutes in.
STAT OF THE GAME
Maybe it shouldn't surprise us when opposing teams struggle offensively against Boston, but the Pacers shot a mere 37.2 percent (29 of 78 overall) highlighted by another rough night for Danny Granger (5-of-21, 15 points) and Roy Hibbert (3-of-9, 8 points).
UNSUNG HERO
As the Celtics sleepwalked through the early portion of the game (digging themselves an early hole), it was Pierce that provided the only offense, making his first four shots of the game. He went quiet for a bit, but finished the game with a fastbreak dunk and a 3-pointer to cap his all-around effort. Pierce finished plus-11 in the plus/minus, tops among starters.
WHAT IT MEANS
Despite coming out sleepy three days after their Christmas loss to the Magic, the Celtics get back on the winning track with a solid win on the road. More importantly, Boston won a game in which its starters weren't firing on all cylinders, something it's rarely done this year. Daniels starred against the team he enjoyed his finest NBA years with and showed another glimpse of what he's capable of when focused. In addition to his 12 points, Daniels added five rebounds, four assists, two blocks, a steal and a plus-12 in the plus/minus.