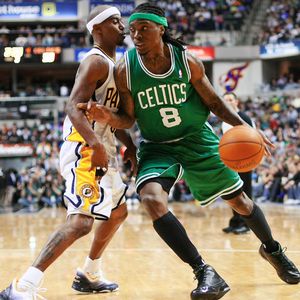 Michael Hickey/US Presswire
Marquis Daniels works against his old team.Five observations from afar after the Boston Celtics defeated the Indiana Pacers 95-83 Tuesday night at Conseco Fieldhouse in Indianapolis:
1. CELTICS HAVE MORE IN RESERVE
Before the season, Celtics coach Doc Rivers stressed how his bench would have to rescue Boston on the nights its starters simply didn't have it. Yet, in a season in which the Celtics' bench is being outscored by opponents by an average of four points per game, that's rarely happened. Sure, Boston has leaned heavy on Glen Davis, but the rest of the reserves have sputtered over the first two months of the season. The stat sheet doesn't suggest a very dominating performance Tuesday night, but Boston's backups did outscore their Indiana counterparts, 29-28, and it was the combination of Davis and Marquis Daniels -- along with quality second-half minutes from Von Wafer and Jermaine O'Neal -- that helped Boston rally from as much as a 12-point deficit.
The key stretch came over the final five minutes of the third quarter when Boston's subs started hitting the floor. Davis and Daniels keyed a little 14-5 burst that pulled the Celtics within one entering the final frame. Boston opened that fourth quarter on an 11-0 run, fueled by its defense as Indiana missed its first five shots of the quarter and turned the ball over twice. By the time Kevin Garnett subbed back in for O'Neal with 6:22 remaining in the game, Boston boasted a 10-point cushion with an 82-72 lead.
2. DANIELS GETS BEST OF OLD FRIENDS
The first (and only) time Daniels returned to Indiana last season, he labored through a poor outing in which he also believed he suffered the initial injury that would leave him with torn ligaments in his left thumb (sidelining him for 28 games last year). Daniels' return trip Tuesday to his old stomping grounds produced much better results, maybe his finest game this season. Not only did Daniels log key minutes as backup point guard (especially after Nate Robinson knocked heads with Mike Dunleavy), but thrived at both ends of the court. Daniels, who enjoyed his finest NBA numbers during three seasons with the Pacers from 2006-2009, finished with 12 points on 6-of-10 shooting with five rebounds, four assists, two blocked shots, and a steal over 30 minutes, 40 seconds of action. On a night Rivers thought his team was moving too fast for its own good, it was Daniels who slowed down the pace and controlled an offense that clearly misses the calming presence of Rajon Rondo (sprained left ankle). Daniels produced all four of his assists in the fourth quarter, all coming over the first 5:02 of the frame, aiding Boston's 16-2 run during that span.
3. JUST BABY BEING BABY
With Shaquille O'Neal plagued by foul trouble again (fouling out for the second straight game, this time in 16:26), the Celtics leaned hard on Davis, riding him for 35 minutes. His shot didn't always fall (6-of-14 overall), but he made 5-of-8 attempts in the second half, scoring 10 of his 14 points after the intermission. What's more, he drew two offensive fouls, including his 29th charge of the year. Davis simply does all the little things that should earn him consideration for the NBA's Sixth Man of the Year award. Maybe, then, we should stop being amazed at what Davis is providing on a consistent basis this season, but suffice to say that the Celtics would not be 24-5 without his contributions. Even on a night where Daniels shined, Davis is the bench torchbearer.
4. READY WHEN YOUR NAME IS CALLED
Wafer hasn't logged many minutes lately. Take away the 9:38 he saw against Philadelphia on Dec. 22, and he's played a mere seven minutes over Boston's last four games. Then Rivers tossed him on the floor for seven minutes Tuesday against the Pacers and he responded by keeping his head above water, chipping in two points and one key steal that led to Boston's go-ahead (and stay-ahead) bucket early in the fourth frame. Rivers told reporters after the game how he told Rondo to go talk to Wafer because he was planning on leaning on him with Robinson out of the game due to a head injury (that required postgame stitches). Wafer played six fourth-quarter minutes and finished plus-10 overall.
5. LOOSE BALLS: J.O'NEAL VS. OLD TEAMMATES
* While Daniels enjoyed great success against his old team, Jermaine O'Neal, who recently noted his desire to retire in a Pacers jersey, logged 12 quiet minutes. He didn't put up a shot and committed three fouls, but he did grab two rebounds and provided his usual steady help defense, altering shots and aiding Boston in forcing the Pacers to shoot just 37.2 percent overall.
* The Celtics and Pacers finished with 34 points apiece in the paint. But it took Indiana nine more shot attempts than Boston to generate that number. Boston made it uncomfortable for Roy Hibbert and Co. near the rim, particularly late in the game. Indiana finished 5-of-19 shooting (26.3 percent) in the final frame and a mere 12-of-38 shooting (31.6 percent) overall in the second half.
* One key to Boston's success: Limiting mid-range jumpers. Indiana finished 4-of-19 shooting (21 percent) on attempts from 16 to 23 feet, many of those misses aided by the Celtics' getting hands in defenders faces. Add in 12 misses from beyond the arc, and shots were falling for the Pacers from the perimeter, helping Boston get back in the game despite an early deficit.
* How much does Boston miss Rondo? The team generated a mere six assists on 12 field goals at the rim (four of which were generated by Paul Pierce). The team typically averages 10.6 assists at the rim per game while making a league-best 17.1 shots per game at that range.