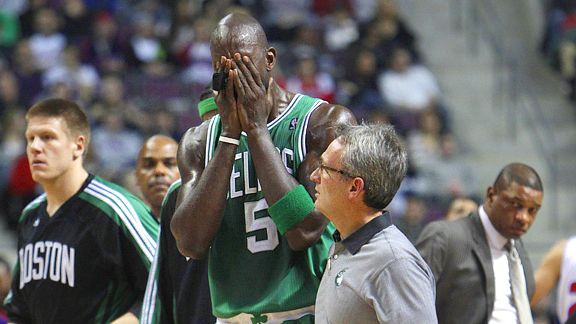 AP Photo/Paul Sancya
Kevin Garnett covers his face in pain while leaving the floor after injuring his right leg.First impressions from afar after the Detroit Pistons defeated the Boston Celtics 104-92 Wednesday night at The Place of Auburn Hills.
HOW THE GAME WAS WON
The Celtics committed a season-high 21 turnovers, giving away 23 points off their sloppy play while dropping their second game on a three-game holiday road trip. Paul Pierce tried to rally the Celtics by putting the team on his back in the final frame, but couldn't do it alone. He finished with a game-high 33 points on 11-of-16 shooting (3-of-4 beyond the arc) with eight assists, five rebounds, and four steals. Ray Allen and Glen Davis kicked in 12 points apiece for Boston. The Pistons put five players in double figures, including veteran guard Tracy McGrady, who scored 21 points and dished out eight assists while starting in place of Rodney Stuckey.
TURNING POINT
The Celtics were playing poorly out of the gates, but Kevin Garnett suffered what the team later dubbed a "right lower leg" injury late in the first quarter and that didn't help matters. The team looked a bit shellshocked as the Pistons stretched out what was a seven-point cushion at that point. Even as X-rays suggested no fracture, the Celtics couldn't help but be worried about the status of Garnett, who had looked so spry this season.
STAT OF THE GAME
The Celtics entered the game allowing the fewest points per game in the NBA, then allowed Detroit to drop 104 points while shooting 55.7 percent (39 of 70) from the floor and 66.7 percent (10 of 15) beyond the arc. Playing without Stuckey, the Pistons still generated 27 assists.
UNSUNG HERO
The Pistons boast the best scoring bench in the league and Austin Daye chipped in 12 points on an efficient 5-of-7 shooting over 11 minutes, giving the sort of second-unit offense that kept Boston at arm's length.
WHAT IT MEANS
The Celtics won't want to watch tape of this one, because it was ugly and the officials didn't aid their cause at all.
But the biggest concern is Kevin Garnett's injury and what the MRIs will show on Thursday. As Boston hopes to get point guard Rajon Rondo (sprained left ankle) back in the lineup Friday against the New Orleans Hornets, it could be preparing to navigate without Garnett for some time depending on what those tests show.