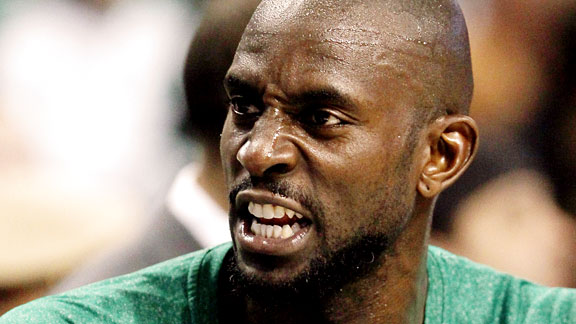 Elsa/Getty Images
Even with a healthy Garnett, it is going to be difficult for the Celtics to keep up their hot shooting pace.Even more daunting than Kevin Garnett's injury is the law of averages. The Celts' number is up, writes John Hollinger

:
Kevin Garnett's health is obviously first and foremost on the minds of Boston Celtics fans right now. It goes without saying that a long-term injury to the superstar power forward would be devastating to the Celtics' title hopes.

But a more insidious foe also might be a factor for them in the final two-thirds of the season: the law of averages. Statistically, it will be very difficult for Boston to maintain its offensive performance, even allowing for the fact that it has been short-handed on several nights.

It's an odd conclusion to reach because Boston isn't primarily an offensive team; the Celtics are only 10th in offensive efficiency. It's their top-ranked defense that has carried the mail for them in their torrid 24-6 start.

Nonetheless, the offense perhaps bears greater scrutiny as we test whether the Celtics' play can continue throughout the season's final 52 games because, in one respect, Boston has been flukishly amazing.

Let's start at the top. The Celtics are one of the league's most unusual offensive teams: They take fewer shots than nearly everyone else, and they make a higher percentage of them than everyone else. In fact, their field goal percentage of 50.2 is more than 2 percentage points higher than that of any other team this season; what's more, it's the second-best shooting percentage of the past decade.

On the flip side, although the Celtics have lowered the obscenely high turnover rate of seasons past, their lack of second shots remains phenomenal. Despite enviable size, Boston ranks last in offensive rebound rate. The Celtics claim only 21.0 percent of their missed shots, and, as a result, only the woebegone Charlotte Bobcats attempt fewer shots per possessions. (I define "shots" here to include free throw attempts.)

That's just par for the course so far; Boston was last in the NBA in shots per possession last season.
Click HERE

to read the full story.