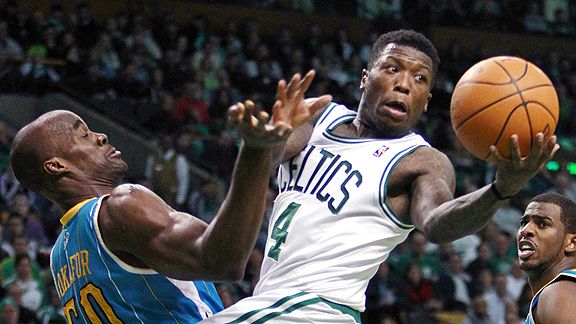 AP Photo/Michael Dwyer
Nate Robinson drives to the basket Friday against the Hornets.BOSTON -- Rapid reaction after the New Orleans Hornets defeated the Boston Celtics 83-81 Friday afternoon at the TD Garden:
HOW THE GAME WAS WON
Despite a furious fourth-quarter rally out of a double-digit hole, the Celtics watched New Orleans fight back from a seven-point deficit over the final six minutes to escape with a win on New Year's Eve. Chris Paul registered 20 points and 11 assists over 40 minutes, while David West (19 points) and Marco Belinelli (18 points) aided the offensive effort. Ray Allen got hot late and scored a team-high 18 points for Boston, which put five players in double figures, but missed the veteran presences of Kevin Garnett and Rajon Rondo down the stretch.
TURNING POINT
The Hornets ripped off a 20-8 run to open an 11-point lead late in the third quarter, but Boston soon took complete control. After scoring the final bucket of the third frame, the Celtics scored the first 16 points of the fourth quarter and Ray Allen's back-to-back 3-pointers put Boston out front, 73-66, with 6:26 to play. New Orleans missed 10 consecutive shots spanning into the fourth frame before Belinelli's jumper with 6:13 remaining broke a scoreless streak of more than six minutes. The Hornets then fought back and Belinelli's triple with 3:06 to go gave the visitors the lead back.
STAT OF THE GAME
The Celtics were again plagued by turnovers, giving the ball up 19 times for 25 points.
UNSUNG HERO
Rookie forward Luke Harangody, a mere 48 minutes to his credit over 12 NBA appearances, logged 11 minutes off the bench and missed four of the five shots he took. A poor night? Yes, he only scored two points (following his own missed 3-pointer with a putback), but he added four rebounds and a was a team-high plus-18 in the plus/minus.
WHAT IT MEANS
The Celtics have now lost three of their last four and suffered only their second defeat at the Garden this season. This team clearly needs more healthy bodies, but players simply tried to do too much, especially late in the game, and Boston abandoned what had helped it rally back in the first place.