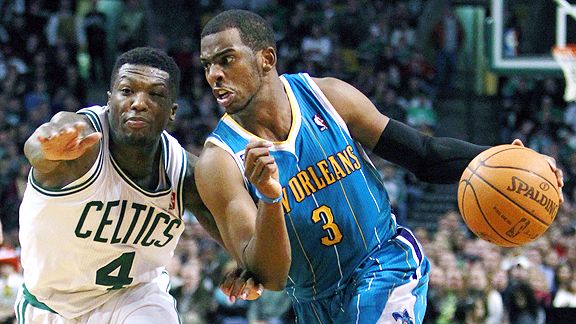 AP Photo/Michael Dwyer
Chris Paul drives on Nate Robinson during Friday's game.Celtics president of basketball operations Danny Ainge hinted during his weekly call-in to Boston sports radio station WEEI (850 AM) that guard Nate Robinson isn't 100 percent right now, likely still dealing with some pain in his left foot that nagged at him early last month.
But Robinson doesn't have time to rest. Quite the opposite, the Celtics have leaned heavy on him in place of injured point guard Rajon Rondo (sprained left ankle) and while Robinson's production has cooled from his initial red-hot injection into the starting lineup, he's doing his best to fill Rondo's large shoes.
On Friday, that meant guarding New Orleans star guard Chris Paul, which might have left Robinson more gassed than normal.
"Well, he's playing a lot of minutes," Celtics coach Doc River said when asked about Robinson's health. "And he's guarding Chris Paul. And Chris Paul has the ball in his hands for 20 seconds per possession. That's exhausting. So I would say it's more of that."
Paul finished with 20 points, 11 assists, six steals, and five rebounds over 40 minutes.
Offensively, Robinson turned in one of Boston's better starting performances Friday. He connected on 5-of-10 shots for 11 points, while adding six rebounds, three assists and two steals over 38 minutes. Robinson got lifted in favor of Marquis Daniels midway through the third quarter, but returned to play the entire fourth frame, scoring four points and grabbing three rebounds during the final frame.
Rondo admitted he's coaching Robinson during games, giving him tips on what to look for, particularly coming out of timeouts. But for a player better suited as the off guard, Robinson is still learning how to operate as offensive quarterback.
"It's a lot to ask of him," admitted Rondo. "But he's trying to do the best he can."