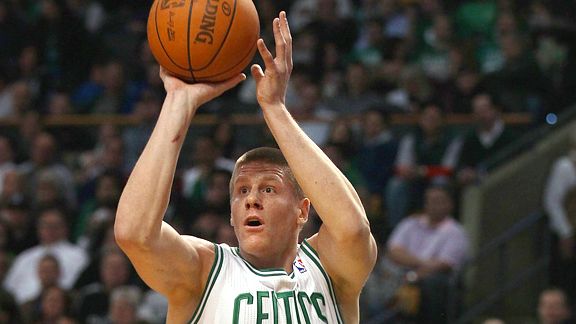 Elsa/Getty Images
Luke Harangody got extended minutes Friday vs. New Orleans.BOSTON -- That elusive first NBA 3-pointer evaded him yet again Friday, but it might have been the best thing that could have happened to Boston Celtics rookie Luke Harangody.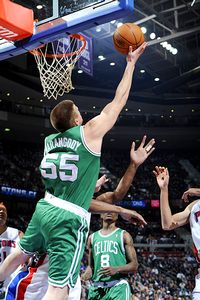 Allen Einstein/NBAE/Getty Images
Luke Harangody has played only 60 minutes in 13 games but was impressive on Friday.A wide-open chuck from in front of the Boston bench rattled out midway through the second quarter of a 83-81 loss to New Orleans -- just like the other two he's hoisted in his rookie season -- but Harangody crashed the basket, collected an offensive rebound and scored on a putback, capping a five-minute shift in which he helped the Celtics' reserves turn a one-point deficit into a five-point lead.
The hustle play earned Harangody a coveted Tommy Point, even if he was back in a familiar spot on the bench before it could even be awarded. It was that sort of play that gave Celtics coach Doc Rivers confidence to trot Harangody back out for a second extended shift spanning into the fourth quarter.
Showcasing an energy Boston's starters clearly lacked, Harangody logged a career-high 12:49 Friday against the Hornets. The fact that he missed four of the five shots he took didn't matter. He scrapped for four rebounds, and his plus-18 in the plus-minus category shows the impact he made on the court.
On a day fellow rookies Semih Erden (DNP) and Avery Bradley (1 second of court time) were cemented to the bench, Harangody might have made his strongest case for increased action, particularly during a stretch in which Boston remains ravaged by injuries.
"You know, Luke Harangody was guarding Emeka Okafor," said Rivers, slightly incredulous at the suggestion that an undersized 6-foot-7 rookie taken with the 52nd overall pick had just more than held his own against a 6-foot-10 former Rookie of the Year taken with the 2nd overall pick (and one who's averaging a near double-double per game this season at 10.6 points and 9.7 rebounds per game).
"I mean, what a hell of a matchup that is. And Luke was phenomenal. He just played so darn hard, so I left him on the floor."
Click HERE to read the full story.