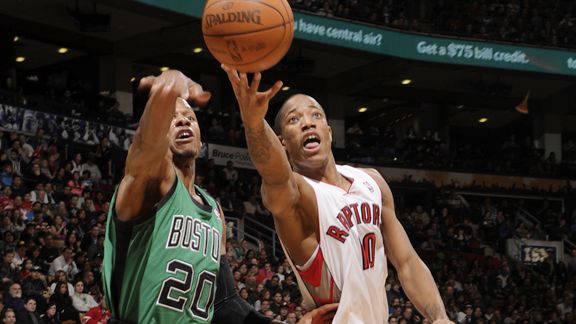 Ron Turenne/NBAE/Getty Images
Ray Allen and the Celtics got Rajon Rondo back ... and they got back on the winning track.First impressions from afar after the Boston Celtics defeated the Toronto Raptors 93-79 Sunday evening at the Air Canada Centre:
HOW THE GAME WAS WON
Even with Rajon Rondo back in the lineup, Paul Pierce continued to be Mr. Do-It-All for the Celtics, but his typical scoring punch will stand out most. Pierce poured in a game-high 30 points on 10-of-15 shooting (3-of-3 beyond the arc) with seven rebounds and four assists over 36 minutes. One game after coming under fire for some a poor late-game decision, Glen Davis flirted with a triple-double, most notably handing out eight assists to go along with 15 points and 11 rebounds. Rondo kicked in four points and eight assists over 34 minutes for the Celtics.
TURNING POINT
In a game in which the Celtics couldn't pull away, it was Pierce's emphatic, poster-ready, one-handed jam over two Toronto defenders late in the fourth quarter that essentially sealed the deal. Ray Allen followed with a pair of jumpers as Boston's lead ballooned to 12 with three minutes to play.
STAT OF THE GAME
The Celtics lost the rebound battle (49-37) and gave up 19 offensive boards leading to 19 second-chance Raptors points, but still found a way to cruise at the finish line.
UNSUNG HERO
Davis deserves as much credit as anyone. One day after his 25th birthday, he showed incredible maturity bouncing back from a tough night against New Orleans to put up a near triple-double. The Ticket Stub (his favorite nickname as he replaces Kevin Garnett) is back.
WHAT IT MEANS
Rondo returns, the Celtics win. He finished a team-best plus-22 in the plus/minus, showing his impact in this game while not necessarily filling the stat sheet. Boston gets back on the winning track after dropping three of its last four. The second end of a back-to-back looms Monday when the Minnesota Timberwolves visit the TD Garden to continue a grueling stretch of six games in eight days.