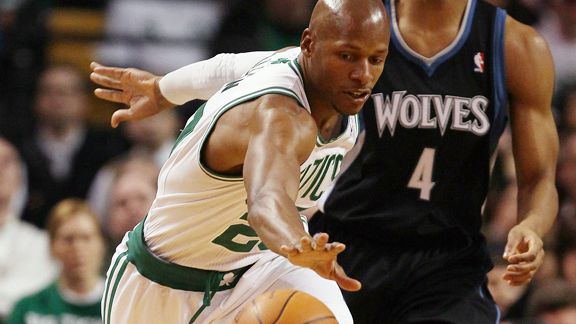 Elsa/Getty Images
Ray Allen and the Celtics surged late to get past the T-Wolves.BOSTON -- Rapid reaction after the Boston Celtics defeated the Minnesota Timberwolves 96-93 Monday night at the TD Garden:
HOW THE GAME WAS WON
In a game that Boston trailed for nearly 46 minutes, the Celtics surged ahead with just more than two minutes to play, then held on during a seesaw finish. Paul Pierce scored a game-high 23 points on 8-of-16 shooting with six rebounds and three assists over 37 minutes, while Ray Allen kicked in 20 points, also on 8-of-16 shooting, connecting on 4-of-5 3-pointers. Rajon Rondo chipped in six points and 16 assists for Boston, while Von Wafer sparked the bench effort with 10 points.
TURNING POINT
A Pierce 3-pointer -- his only one of the night -- with 3:34 remaining pulled the Celtics within two and sent the Garden into delirium as Minnesota called time out. But Michael Beasley canned a 12-foot jumper over Pierce coming out of the break and it looked like the Timberwolves might be able to withstand another Boston charge. Didn't happen.
Allen slipped behind Corey Brewer for a wide-open 3-pointer and Shaquille O'Neal clumsily produced a layup off a bobbled feed from Rondo to put Boston out front 88-87 with 2:09 to play. Despite the lead changes (and an unrelenting Beasley), Boston hung on at the end (a potential 3-pointer at the buzzer slamming harmlessly off the glass).
STAT OF THE GAME
The Timberwolves outrebounded the Celtics 45-30 with Kevin Love's monster night on the glass leading the way. Love had 15 boards at the half and had already produced the most rebounds by an opposing player this season mere minutes into the second half (the previous high was 16 by Toronto's Reggie Evans on Nov. 21). Love finished with 24 rebounds (to go along with 12 points).
UNSUNG HERO
Wafer produced his best game in a Celtics uniform, reaching double figures for the first time since April 2009 as he chipped in 10 points on 4-of-8 shooting and grabbed a team-high six rebounds (matched by Pierce). Wafer provided a spark each time he was on the floor, finishing plus-15 in the plus/minus category.
WHAT IT MEANS
Should this one have been this close? Probably not. Sure, the Timberwolves played inspired ball, but Boston hung around long enough to make their typical late-game charge. In a stretch that features six games in eight days, the Celtics won both ends of the first leg -- a back-to-back -- and now enjoy a day off before the San Antonio Spurs visit on Wednesday.