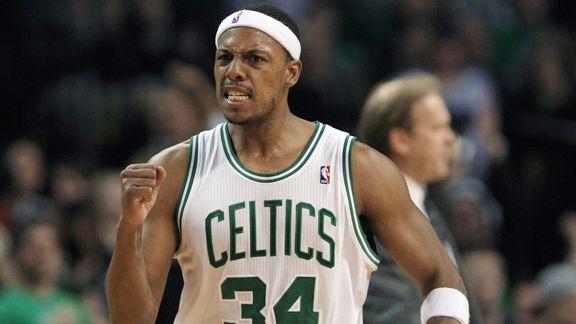 AP Photo/Charles Krupa
Paul Pierce got more aggressive in the second half vs. Minnesota Monday.BOSTON -- After captain Paul Pierce put up only six first-half shots Monday night against the Timberwolves and looked like he was trying to be more of a facilitator than a scorer, Celtics coach Doc Rivers gently nudged him at halftime and reminded him that the team did have point guard Rajon Rondo back on the floor.
"I thought Paul in the first half tried way too hard to get everybody else involved," said Rivers. "And I told him that at halftime. I said, 'Paul, you no longer have to be the play maker. We need you to be the aggressive scorer.' And even he, right after the game, he walked up to me and it was the first thing he said was, 'Ah, gosh, I was way too passive.' And I said, 'Yeah, I just thought you were trying to set everybody else up. Consciously, you know, twice he had shots and he passed it to Nate [Robinson.] Nate's struggling with his shot right now, but I still want Paul to shoot the ball if he's open. And I just thought he did a little too much of that tonight."
Pierce connected on 6-of-10 attempts in the second half, scoring 18 of his game-high 23 points after the intermission. He also grabbed five of his six rebounds after the break.
"Doc, at the half, wanted me to be a little more aggressive," said Pierce. "I was out there trying to make plays and I forgot that we had Rondo out there doing that so I can go back to my customary role of scoring the ball. That's what I tried to do in the second half."