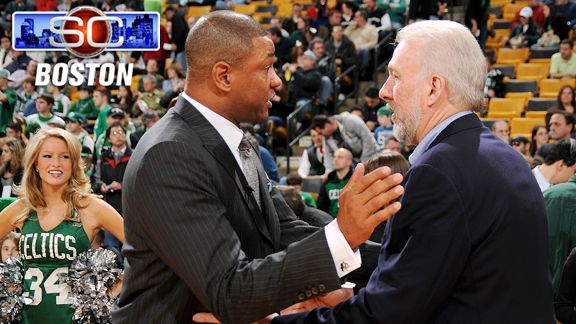 Brian Babineau/NBAE/Getty Images

Doc Rivers and Gregg Popovich put friendship aside when their teams clash Wednesday night.

The Spurs' visit to Boston should be fun, but coaches Gregg Popovich and Doc Rivers figure bigger games are to come down the road, writes Peter May:
BOSTON -- The Miami Heat stopped by on opening night. But, as we've seen the past month or so, that was miami, as opposed to the current MIAMI that is terrorizing the league. As for the rest of the NBA elite, the Orlando Magic, Dallas Mavericks, Utah Jazz and Los Angeles Lakers have yet to grace the TD Garden floor this season.

Their time will come. On Wednesday night, Celtics fans are in for a treat. The teams with the two best records in the league (as opposed to the two best teams, which covers the rampaging Heat) will meet when the San Antonio Spurs make their annual visit to Boston.

The teams have a combined 12 losses -- and it's the first week of January. (Twenty-three teams already have 12 losses apiece.) San Antonio has blown away the competition in the Western Conference in the first 30-plus games to the point where Gregg Popovich has been the only winner of the conference's coach of the month honors this season. The Spurs are on a ridiculous pace that even Popovich doesn't expect to last, but he's enjoying it while it does.

"You know us. We never talk about what our record is," Popovich said before the Spurs lost to the Knicks 128-115 on Tuesday night in New York. "It is whatever it is. But we know full well that this won't continue for 82 games. We're not the Chicago Bulls [who won 72 games in 1995-96]. That's not us. We'll come back to the center eventually, but our hope is that we're still a good team when it matters most."

Those four last words -- "when it matters most" -- have been the Spurs' mantra for the past number of years. Ditto with the Celtics of the new Big Three era. Doc Rivers, like Popovich, couldn't care less what his team's record is at this point. He probably couldn't even tell you. Same for Popovich.

They both want the same thing when it matters most (as do the other championship contenders): health and momentum in the springtime. But winning along the way sure doesn't hurt, especially when the playoffs come around and the seeds are parceled out. The Spurs' four NBA titles all were won with them having home-court advantage in the Finals. They've never been in the Finals without having home court (which makes Popovich 4-0 in the big dance). The Celtics had the advantage in 2008 and won Banner No. 17. They didn't in 2010, which they came to realize might have cost them Banner No. 18.
Click HERE to read the full story.