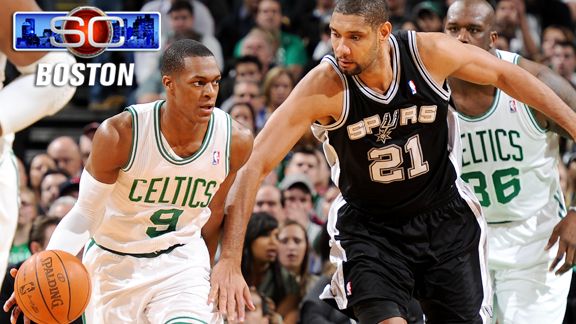 Brian Babineau/NBAE/Getty Images

Tim Duncan and the Spurs couldn't slow down Rajon Rondo.

BOSTON -- Point guard Rajon Rondo thrives on his ability to see things before they happen. The 22 assists he handed out as part of his latest eyebrow-raising triple-double Wednesday night in the Boston Celtics' 105-103 triumph over the San Antonio Spurs are evidence of that.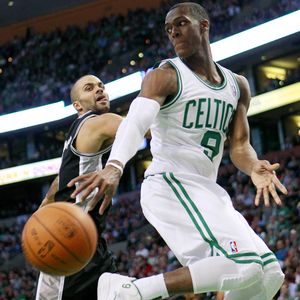 AP Photo/Michael Dwyer
Rajon Rondo not only sliced the Spurs' defense with 22 assists, he burned them with some key jumpers in the fourth quarter of the Celtics' 105-103 win.
But Rondo's power of clairvoyance began long before he stepped onto the TD Garden court for a 43-minute shift. Rondo had fully anticipated another night of working against a sagging defense, players gleefully running under screens to prevent him from doing any damage by driving to the basket.
So following the Celtics' morning walkthrough, Rondo spent extra time working on his mid-range jumper, spraying shots over invisible Manu Ginobilis.
"We watched film today while working out, but I was upstairs and I watched Rondo take shot after shot after shot after shot," Celtics coach Doc Rivers said. "You could see himself mentally getting ready for what he thought was going to happen, and it did. They went under [screens on the pick-and-roll] and he stepped up and made shots."
After handing out nine third-quarter assists to fuel Boston's feverish second-half shooting, Rondo was essentially challenged by the Spurs to make shots of his own. San Antonio apparently decided it had had enough of being burned by Rondo's ability to kick to an open man.
After putting up only five shots over the first three quarters, Rondo connected on 4-of-5 fourth-quarter shots, including a pair of mid-range jumpers as San Antonio tried to rally. He scored eight of his 12 points in the quarter, keying the Celtics in what amounted to a race to triple digits.
Click HERE to read the full story.
More from the Celtics-Spurs clash
* Peter May: Near-perfect not enough for Allen: Gregg Popovich had just watched Ray Allen fillet his San Antonio Spurs on Wednesday night to the tune of 31 points, connecting on 13 of 16 shots. "I think Ray needs to work on his shooting a little,'' Popovich said. This was Popovich at his dripping, sarcastic best. But the Boston Celtics guard was 100 percent in agreement with the Spurs coach. "Right now, I want to go to the gym and shoot free throws,'' Allen said after the Celtics held off the Spurs 105-103 at TD Garden. That's because Allen inexplicably bricked a pair of freebies with 8.1 seconds left, giving the Spurs one final possession to tie or win the game.
* John Hollinger: Dreaming of Spurs-Celtics in Finals: We know Lakers-Heat is the NBA Finals everyone at the TV networks wants. But after Wednesday night, one has to think Celtics-Spurs wouldn't be such a shabby alternative... It was hard for either side to be too upset about the outcome. Both teams played at a high level, and in the end it took an epic shooting performance from Boston to topple the Spurs. The big takeaway was that this was a showdown that lived up to the hype, even in Garnett's absence. Lakers vs. Heat may capture the imagination of more fans, but in the wake of this thriller, one has to wonder if Celtics vs. Spurs would give us a better Finals.
* Postgame Notes: An unconventional win: The Celtics shot better than 60 percent earlier this season and emerged with a lopsided 31-point thrashing of the Washington Wizards in mid-November, producing one of only two Gino moments this season, Boston's favorite "American Bandstand" dancer gyrating on the JumboTron during the final minutes of an easy triumph. On Wednesday night, the Celtics shot 61.3 percent, and the in-house staff not only didn't consider Gino, Boston almost lost the game. It took a defensive stand on the final play, Paul Pierce blocking Manu Ginobli's 22-foot attempt in the final second, to secure a gravelly two-point triumph against an opponent with the best record in basketball. "Two great defensive teams tonight, huh?" Celtics coach Doc Rivers shrugged.